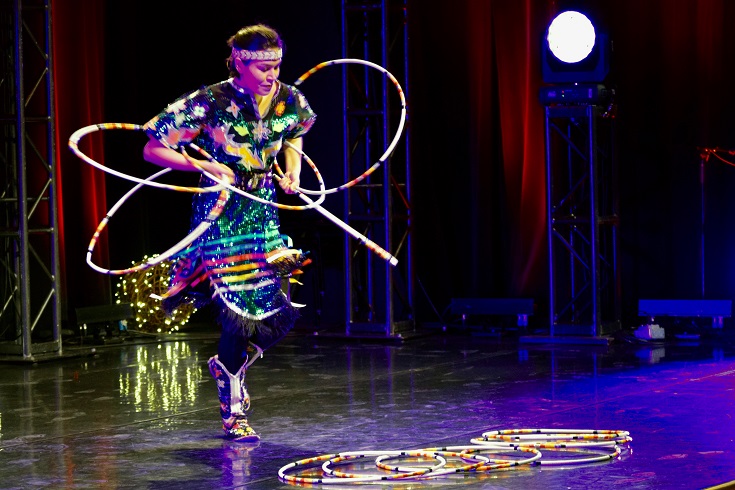 WINNIPEG, MB – The University of Winnipeg Professional, Applied and Continuing Education (PACE) is hosting its ninth annual Cultural Evening at the Winnipeg Art Gallery (WAG) on Friday, January 31 from 6:00 – 9:00 pm.
"Cultural Evening is one of the biggest events for PACE every year," said Kim Loeb, PACE Executive Director. "The theme of this year's event is 'Northern Mosaic.' It focuses on the diversity seen throughout PACE. We cordially invite the community to join us to 'unite, evolve, and aspire' as we celebrate multiculturalism."
Cultural Evening showcases the talent of PACE's student body outside of the classroom, with musical and dance performances by students, the signature cultural attire fashion show, as well as a number of guest performances.
This year we are pleased to have UWinnipeg aluma Shanley Spence join us to perform a traditional Indigenous hoop dance. We're also pleased to have Flying Lion Dance Troupe join us, as well as the Ghanaian Union of Manitoba's cultural dance group.
"This event finds success in the team that came together, committed their time, and shared thoughts and innovation," said Rilee Prychun, Cultural Evening event coordinator and recent Project Management Diploma graduate. "I am incredibly grateful to have worked with a group of students who have contributed their talents to create a night that signifies the diversity within PACE."
Located in the heart of the city in the Buhler Centre, PACE's dynamic campus connects people from diverse backgrounds and cultures, with students from across the globe pursuing studies here.
PACE's unique education model blends university-level academics with practical hands-on experience to fully expand the potential of students. Programs specialize in high-growth career fields with strong employment prospects, such as project management, human resources, business management, and public relations, marketing, and strategic communication.
"It has been another amazing year to work on this event with such a highly talented and diverse group of students and volunteers," said Loc Lu, Student Life Coordinator at PACE. "We are excited to showcase some of the best of what PACE has to offer in terms of talent and culture. The WAG is definitely the place to be on January 31."
Tickets for the event are $5 per person and available online.
For further inquiries, please contact:
Loc Lu
Student Life and Engagement Coordinator, UWinnipeg PACE
204.982.1143
l.lu@uwinnipeg.ca