The organizers of the upcoming Auviqsaqtut Inuit Studies Conference have issued a call for papers centred around Inuit knowledge, collaboration, shared histories, and building toward the future. They are also interested in proposals for cultural activities, workshops, performances, and other creative projects, as well as Inuit artistic vendors from across Inuit Nunangat.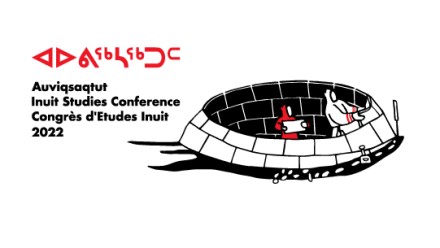 Auviqsaqtut means cutting blocks to make an iglu/working together to build an iglu, and evokes themes of collaboration, sharing intergenerational knowledge, and building something together. Recognizing that it has been 100 years since the Fifth Thule exhibition in the Canadian Arctic, as well as 100 years since the release of the documentary Nanook of the North, conference organizers are interested in content that inspires attendees to look back while also looking forward.
Our work centres on the importance of creating space to for intergenerational knowledge sharing and collaboration between and amongst Indigenous peoples.

Dr. Julie Nagam
The University of Winnipeg is hosting this conference alongside Qaumajuq, the Inuit Art Centre at the Winnipeg Art Gallery. The University is a proud neighbour to this one-of-a-kind cultural arts centre. Having the world's largest collection of contemporary Inuit art right beside the University provides a unique opportunity for students, faculty, and community members to learn the history, languages, and art.
The conference takes place April 6 to April 9, 2022, during the last weekend of Qaumajuq's inaugural exhibition INUA: Inuit Nunangat Ungammuaktut Atautikkut (Inuit Moving Forward Together), which is curated by an all-Inuit team that has brought together work by over 90 Inuit artists from across the northern Canada, as well as some living in the urban South.
The chance to view this exhibit before it closes provides conference-goers an opportunity to understand Inuit culture and connect to the land, beliefs, and values important to Inuit people.
"The University of Winnipeg and Aabijijiwan New Media Lab are thrilled to be co-hosting this conference with WAG-Qaumajuq, because our work centres on the importance of creating space to for intergenerational knowledge sharing and collaboration between and amongst Indigenous peoples," said Dr. Julie Nagam, Canada Research Chair in Indigenous Arts, Collaboration and Digital Media.
Conference organizers are looking forward to hearing from some dynamic keynote speakers, such as Aka Niviâna, Wayne Clark, and Annie Buscemi.
Aka Niviâna is an Inuk climate activist, poet, and writer from Upernavik, north Greenland. She is one of the artists behind the short film "Rise: From One Island to Another" (2018), which received the Climate Outreach's People's Choice Award the subsequent year.
Wayne Clark is originally from Churchill and is an enrolled Inuk beneficiary of the Nunavut Land Claim Agreement (Tikiraqjuaq/ ᑎᑭᕋᕐᔪᐊᖅ/ Whale Cove). He is the Executive Director of Indigenous Health Initiatives for the Faculty of Medicine and Dentistry at the University of Alberta. Throughout his career, Dr. Clark worked in various program management roles in the areas of Indigenous health and wellness, research, and communications.
Annie Buscemi is a 24-year old social media influencer whose mental wellness posts reach thousands of youth daily. To date, she has posted over a hundred videos sharing Inuit-specific reasons to stay alive, from learning and sharing Inuktitut, to enjoying the sunrise over Iqaluit. Buscemi currently lives in Iqaluit, Nunavut, where she is currently a third-year apprentice electrician. She is originally from Kimmirut, Nunavut.
The conference will include individual and group presentations, thematic sessions, roundtables, academic papers, panel discussions, as well as a gala event featuring art, live music, and performances. Elders, knowledge-bearers, scholars, community advocates, educators, academics, researchers, artists, postsecondary students, policy-makers, and others are encouraged to participate. The full line-up of speakers and activities will be announced when conference registration opens in February 2022.
Dr. Heather Igloliorte, Concordia University Research Chair in Circumpolar Indigenous Arts, is leading the Inuit Studies Conference as part of her role as Director of the Inuit Futures in Arts Leadership.
She says, "The return of this in-person conference provides a significant opportunity for conference attendees to explore Qaumajuq at the Winnipeg Art Gallery, to visit its inaugural exhibition INUA, and to participate in the closing celebrations that weekend."
Anyone interested in submitting an abstract for a presentation or in organizing a thematic session, roundtable, panel discussion, workshop, seminar, exhibit, or performance should send their proposal to the Auviqsaqtut Inuit Studies Conference organizers on or before December 15, 2021.