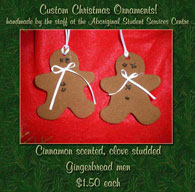 The Aboriginal Student Services Centre has a variety of handmade Christmas tree ornaments for sale. All ornaments have been hand made by the staff, with proceeds of the sale going towards the annual Spring Pow Wow.
We have unique items! Snow globe snowmen, shotgun shell Santas, mittens stuffed with greenery, and clove and cinnamon scented gingerbread men.
Our ornaments are available now in the ASSC, 2nd floor, Lockhart Hall. Please see attached photos for pricing and item description.
Happy Holidays & Merry Christmas from the staff at the Aboriginal Student Services Centre!
For more information contact Randy White, Transition Year Program Coordinator, Aboriginal Student Services at 204.786.9983.