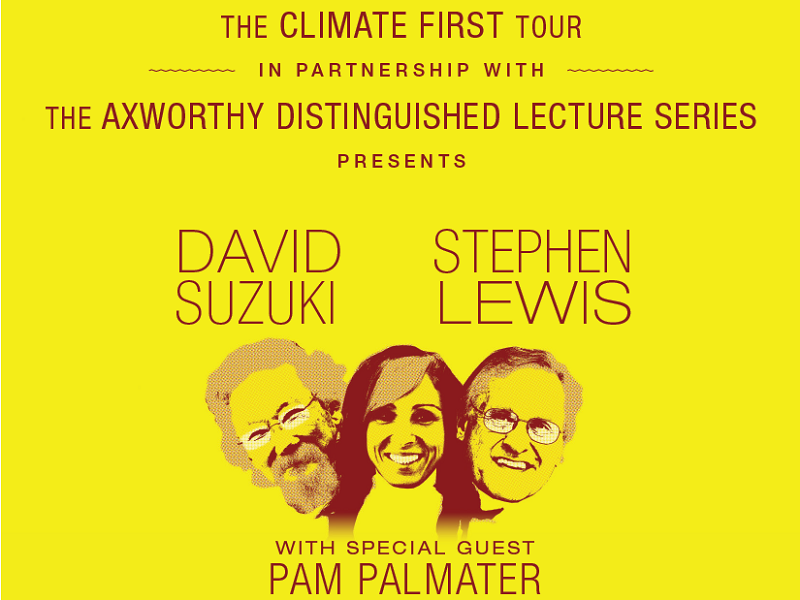 NOTE: This event is now sold out.
Three of Canada's most high-profile public advocates will be at The University of Winnipeg campus on Friday, October 4. David Suzuki and Stephen Lewis will speak at UWinnipeg's Duckworth Centre for the final stop of their national Climate First tour to engage Canadians in an urgent dialogue about climate change. Lawyer, author, and noted climate advocate Pam Palmater — a celebrated scholar and speaker on Indigenous issues — will join Suzuki and Lewis at the Winnipeg event.
The Winnipeg event is presented in partnership with the Axworthy Distinguished Lecture Series.
Suzuki noted an intergenerational dialogue is a vital element in taking action against climate change and has been a central theme of the speaking tour.
"Like two silverback gorillas, Stephen and I have accumulated a life's worth of experience and knowledge," Suzuki said. "Our responsibility now is sharing our experiences and advice with a new generation, urging young people to get involved in the election, demanding all candidates for office to make climate their highest priority because it will impact the entire futures of all youth."
"The best scientists in the world are telling us we have just a few years to dramatically cut greenhouse gas emissions to avoid the most frightening aspects of climate change," said Lewis. "Our message to Canadians and political parties is clear: We must put the climate first in this critical election."
"Genocide and ecocide go hand in hand. Extraction and development destroys the lands and waters on which we depend for our survival and is a direct contributor to the violence and genocide committed against Indigenous women and girls," said Palmater. "Canada is in a crisis of epic proportions and we no longer have time to wait for politicians to decide if climate change or genocide is real. It is the responsibility of all Canadians to rise up and push governments to act with urgency and work with their treaty partners to ensure a safe and healthy future for all our future generations."
Tickets for the tour's first stop in Toronto sold out in several days. Tickets for the Winnipeg event on October 4 are available online and are expected to sell quickly.
More information about the Axworthy Distinguished Lecture Series is available online.
About Stephen Lewis
Lewis is an outspoken and respected humanitarian who has worked to improve the human condition both in Canada and abroad. A Companion of the Order of Canada, Lewis holds 42 honorary doctorates from Canadian and American universities. Lewis has served as leader of the Ontario New Democratic Party, Canada's ambassador to the United Nations, Deputy Executive Director of UNICEF in New York, and the UN Special Envoy for HIV/AIDS in Africa. He serves as board co-chair of the Stephen Lewis Foundation, and is co-founder and co-director of the international advocacy organization AIDS-Free World.
About Dr. David Suzuki
Suzuki is Companion of the Order of Canada and a recipient of UNESCO's Kalinga Prize for science, the United Nations Environment Program medal, the 2012 Inamori Ethics Prize, the 2009 Right Livelihood Award, and UNEP's Global 500. Suzuki is Professor Emeritus at the University of British Columbia and holds an honorary degree from the University of Winnipeg and 28 other honorary degrees from universities around the world. He is familiar to television audiences as host of The Nature of Things, and to radio audiences as the original host of CBC Radio's Quirks and Quarks, as well as the acclaimed series It's a Matter of Survival and From Naked Ape to Superspecies. He is co-founder, with Dr. Tara Gillis, of the David Suzuki Foundation. His written work includes more than 55 books, 19 of them for children.
About Dr. Pam Palmater
Palmater is a Mi'kmaw lawyer, professor, author, and social justice activist from Eel River Bar First Nation in New Brunswick. She has four university degrees, including a BA from St. Thomas in Native Studies, an LLB from University of New Brunswick, and a Masters and Doctorate in Law from Dalhousie University specializing in Indigenous law. She currently holds the position of Full Professor and Chair in Indigenous Governance at Ryerson University. Palmater is a well-known public speaker and media commentator — considered one of "Canada's Top 25 Influential Movers and Shakers" by the Financial Post and among the "Top 5 Most Influential Lawyers in Human Rights" by Canadian Lawyer Magazine.