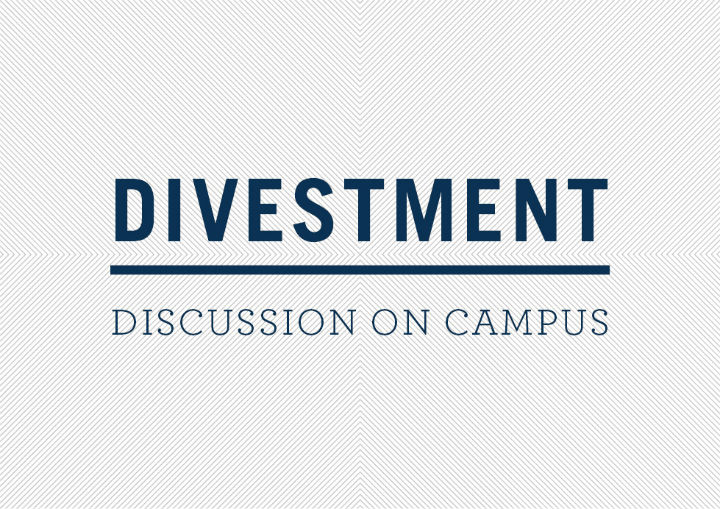 UWinnipeg is currently examining the issue of fossil fuel divestment as it pertains to both Foundation endowment and pension plan investments. Fossil fuel divestment is the removal of assets including stocks, bonds, and investment funds from companies involved in extracting fossil fuels. In 2014, divestment at UWinnipeg was raised by the University of Winnipeg Students' Association. As part of this process, several engagement events took place on campus to encourage thoughtful dialogue.
In the coming weeks, we will be posting a What We Heard document on-line here.
EVENT THREE: Tuesday, April 5

CONVOCATION HALL
11:30 to 1:00 pm
Indigenous knowledge and perspectives
What is the relationship between divestment and Indigenous rights? How can the results of the Truth and Reconciliation Commission inform our discussion about divestment?
Join distinguished panelists Murray Sinclair; Clayton Thomas-Muller; Jamie Wilson and Melina Laboucan-Massimo.
BIOS
(Incoming Senator) Murray Sinclair
Murray Sinclair was awarded an Honorary Doctor of Laws from UWinnipeg in 2011 to honour his distinguished career and life devoted to public service. Sinclair was appointed Chair of the Truth and Reconciliation Commission of Canada (TRC) in 2009, and in this ground-breaking role, created the first comprehensive report on the Indian Residential School system in Canada. Following years of intense hearings from survivors and academic research, the report includes 94 recommendations aimed at bridging the experiences of Indigenous and non-Indigenous Canadians. In addition, Sinclair was Manitoba's first Aboriginal Judge where he co-led the seminal Manitoba Aboriginal Justice Inquiry. In November 2000, Sinclair completed the Report of the Pediatric Cardiac Surgery Inquest, a study into the deaths of twelve children in the pediatric cardiac surgery program of Winnipeg's Health Sciences Centre. He was appointed to the Senate in March 2016 by an independent advisory board. He will be sworn in on April 9.
Clayton Thomas-Muller
Clayton Thomas-Muller is a member of the Treaty #6 based Mathias Colomb Cree Nation also known as Pukatawagan located in Northern Manitoba, Canada. Based in Winnipeg, Manitoba, Canada Clayton is the Stop It At The Source Campaigner with 350.org as well as a founder & organizer with Defenders of the Land. Clayton is involved in many initiatives to support the building of an inclusive movement globally for energy and climate justice. He serves on the boards of the Global Justice Ecology Project and the Bioneers and is a steering committee member of the Tar Sands Solutions Network. Clayton has been recognized by Utne Magazine as one of the top 30 under 30 activists in the United States and as a "Climate Hero 2009" by Yes Magazine. For the last twelve years he has campaigned across Canada, Alaska and the lower 48 states organizing in hundreds of First Nations, Alaska Native and Native American communities in support of grassroots Indigenous Peoples to defend against the encroachment of the fossil fuel industry. This has included a special focus on the sprawling infrastructure of pipelines, refineries and extraction associated with the Canadian tar sands. Clayton is an organizer, facilitator, public speaker and writer on environmental and economic justice. Twitter: @CreeClayton
Jamie Wilson

A Commissioner with the Treaty Relations Commission of Manitoba, Jamie Wilson is originally from the Opaskwayak Cree Nation. He is an educator, a former Ranger in the US military's Special Operations and, recently, a graduate from the Executive Program at the Stanford Graduate School of Business in California. On Ancestral lands, he is an award-winning environmentalist and survivalist who teaches the traditional ways of land navigation, and subsistence living. He has also long advocated for the equality of women in ceremony and in leadership. Now completing his second mandate as Treaty Commissioner, Jamie sees education and economic development as twin pillars to grow a more vibrant future for both First Nations and Manitoba. He earned his B.A. at the University of Winnipeg and his M.Ed. Administration from the University of Manitoba. He also holds a U.S Multi-Subject Teaching Credential from California State University and possesses K-12 teaching experience in public school systems: on-reserve and U.S. charter schools. Jamie currently serves as an Advisor on Winnipeg Mayor Brian Bowman's Indigenous Advisory Council and the University of Manitoba President's Advisory Council.
Melina Laboucan-Massimo
Melina Laboucan-Massimo is Lubicon Cree from Northern Alberta. She has worked on social, environmental and climate justice issues for the past 15 years. Melina has studied and worked in Brazil, Australia, Mexico, and Canada focusing on resource extraction, media literacy and Indigenous rights & responsibilities. She has produced short documentaries, researched, and worked on topics ranging from the tar sands, land protection, water issues and cultural appropriation. For the past 9 years Melina has worked against tar sands expansion as a Climate & Energy campaigner with Greenpeace in Alberta as well as with the Indigenous Environmental Network internationally. Melina has also been vocal on the issue of Murdered and Missing Indigenous Women in Canada after the suspicious death of her sister Bella whose case still remains unsolved. Melina recently finished her Masters degree in Indigenous Governance at the University of Victoria with a focus on Renewable Energy in First Nation communities. This past summer Melina completed a 20.8kW solar installation in her home community of Little Buffalo in the heart of the tar sands.
---
EVENT TWO : MONDAY, MARCH 21
CONVOCATION HALL
12:30 to 2:00 pm

Financial and fiduciary issues
What might the financial impacts of divestment be? How real is the risk of stranded assets? What is the university's fiduciary responsibility? How have other entities approached these financial and fiduciary questions?
Shannon Rohan, Director of Responsible Investment, Shareholder Association for Research and Education (SHARE)
Shannon has more than 15 years of experience in the areas of responsible investment and corporate social responsibility. SHARE provides responsible investment services to institutional investors across Canada including foundations, endowments, pension funds, religious investors and investment managers. Shannon works with boards of trustees and investment committees helping them to devise and implement responsible investment policies and strategies to address environmental, social and corporate governance issues including climate change.
Jackie Forrest, Vice President, Energy Research, ARC Financial
Jackie is responsible for actively monitoring emerging strategic trends related to Canadian oil and gas. She contributes to the ARC Energy Charts publication, and provides commodity price outlooks for ARC's fund investors and portfolio companies. She joined ARC in 2014 after nine years at IHS – a leading provider of energy insights and data – where she held various roles including founding the IHS CERA Oil Sands Dialogue and leading the IHS CERA North America Crude Oil Market service. Her education includes an M.B.A. from Queen's University and a B.Sc in Chemical Engineering from the University of Calgary.
Wayne Wachell & JP Harrison
CEO & Chief Investment Officer & President (Partner), Genus Capital
In 2014, a Responsible Investment Association study recognized Genus as offering funds that: "meet the criteria to place in the most robust subcategory of Fossil Fuel Free products."
Wayne co-founded Genus in 1989 and is the architect of the firm's investment process. He directs research and investment operations and the development of new products. Wayne grew up in northern Manitoba, attended the University of Alberta, and first entered the investment field as a portfolio analyst with Alberta Treasury in 1980. Wayne is a past president of the Vancouver Society of Financial Analysts and has appeared as a market commentator on CBC Newsworld. Wayne serves on the Board of the Bill Reid Foundation and also mentors students in the University of British Columbia Portfolio Management Foundation program.
J.P. joined the investment industry in 1995 as an Investment Advisor and has additional experience as a business consultant, mutual fund company National Sales Manager and Regional Vice President. He has completed an Executive MBA and holds a B.A. with an Economics Major. His role with Genus covers three main areas: first, he is responsible for creating and executing the firm's strategic plan; second, he supports their Client Service Group to ensure they continue to offer industry leading solutions to the families and institutions they serve; and third, he provides direct client service to fund companies, insurers, investment dealers, and the socially responsible investment community.
---
Event One: Divestment as Climate Solution – Wednesday, March 9 from 12:30 to 2:00 pm
Roundtable discussions
Room: Convocation Hall, 2nd floor, Wesley Hall
What is the University's role in taking positions on contemporary issues such as divestment? Where does fossil fuel divestment fit in to the constellation of work related to addressing global climate change? What other approaches or efforts might be higher impact?
Facilitators:
Joan Grace (Political Science)
Peter Ives (Political Science)
Tracey Whalen (Rhetoric, Writing and Communications)
Patricia Fitzpatrick (Geography)
Jobb Arnold (Conflict Resolution Studies)
Andrew Vineberg, Sadie-Phoenix Lavoie and Kevin Settee (Divest UWinnipeg)
Website: uwinnipeg.ca/divestment
MEDIA CONTACT:
Alana Lajoie-O'Malley, Director, Campus Sustainability Office l Co-Chair, Experiential Learning Network
a.lajoie-omalley@uwinnipeg.ca