A team of UWinnipegger's, including six undergraduate students, two graduate, and two post doctoral fellows co-led by UWinnipeg's Dr. Alan Diduck and Dr. Kirit Patel of Menno Simons College/CMU have published a book entitled Advancing Environmental Justice for Marginalized Communities in India: Progress, Challenges and Opportunities, that launches on September 17, 2021.
The book demonstrates the excellence of our students in pursuing community-engaged international field research, scholarly analysis, and academic writing.

Dr. Kirit Patel
This interdisciplinary collection examines social equity and environmental justice in India. It assesses the effectiveness of environmental policies and institutions in rendering justice for marginalized communities while ensuring protection of the environment. It also provides a unique perspective on environmental justice because of its consistent emphasis on social justice, rather than the prevailing predominant analyses from legal or environmental perspectives.
This book is a result of a three-year project on environmental justice that included research conducted in India by UWinnipeg students, thanks to a Social Sciences and Humanities Research Council of Canada Grant and Queen Elizabeth Advanced Scholars (QESII) funding for Drs. Patel and Diduck.
"A really satisfying thing about the project was that it supported student training and the direct costs of research in India," said Diduck. "It also supported 12-month stays in Canada for two postdoctoral researchers from India, Dr. Aruna Malik and Dr. Mahabaleshwar Hegde, who played key roles in several chapters in the book and in Aruna's case in editing parts of the book."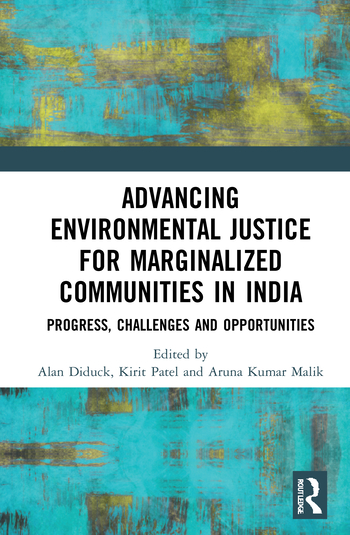 Undergraduate environmental studies & sciences students Ariane Dilay, Sean Goldstone, Avery Letkemann, international development students Bryce Gallant, Tyler Loewen, and human rights student Carinne Bétournay contributed to the project and some wrote chapters in the book, as well as Master's in Development Practice (MDP) students Ari Phanlouvong and Cassandra Szabo.
"The book demonstrates the excellence of our students in pursuing community-engaged international field research, scholarly analysis, and academic writing, "said Patel. "Their research experience with the project has landed them opportunities to collaborate with scholars and environmental activists all over the world and has earned admissions in the most competitive graduate program in North America and Europe. It was indeed a rewarding learning experience for us to work with these talented young minds and future leaders."