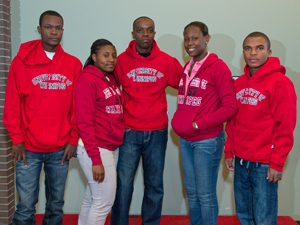 Fourteen months ago, The University of Winnipeg welcomed to our campus five students from Haiti: Jean Widny Pervil, Vanessa Laurent, Samy Archille, Héléna Vickaina Lafleur and Jaquet Duval. All five students lived through the devastating earthquake that rocked Haiti in January 2010. The catastrophic quake killed an estimated 316,000 people, injured 300,000 and left one million people homeless. It also destroyed the country's educational infrastructure.
UWinnipeg is covering costs including airfare, tuition, residence fees, meal plans and counselling, to allow the five Haitian students to complete their degrees. They are now thriving in their second year of studies on our campus.
This holiday season, UWinnipeg is gratefully accepting public donations to cover additional costs such as clothing, books and school supplies, medical supports, monthly allowances and return airfares to Haiti.
Donations can be made to the Haitian Student Bursary Support any time by contacting the University of Winnipeg Foundation at 204-786-9995, or toll free 1-866-394-6050, or by donating on-line by clicking www.uwinnipegfoundation.ca./choose and selecting "Haitian Student Bursary" from the drop down menu.
Best wishes to you and your family.