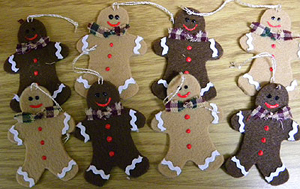 UWinnipeg's Aboriginal Student Services Centre is once again offering Christmas ornaments for sale this year. These ornaments were hand made by staff and Elders, with all proceeds going towards UWinnipeg's student and community Spring Pow Wow.
We have added some new items this year.
Our ornaments are available now:
Aboriginal Student Services Centre
Room 2L01, (2nd floor Lockhart Hall)
anytime from 8:30 am to 4:30 pm
Come check out our handiwork while supplies last!!
Available: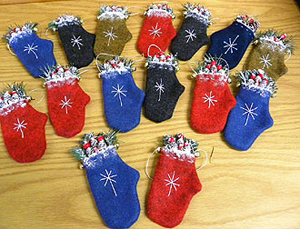 Mittens – $ 2.50. Felt mittens stuffed with acorns, greenery, red berries, and a touch of snow.
Snowglobe Snowmen – Large $ 3.50, Small $ 2.00.
Shotgun Shell Santa, Elves and Snowmen – $ 2.00 or 3 for $5.00. Our biggest seller! Handpainted and decorated with scarves, greenery etc. Unique and perfect for gift giving!
Stars & Gingerbread Men – $ 2.00 each or 3 for $5.00. Craftacular! Whimsical and eye catchy!
Crystal Angels – $ 4.00. Chandelier crystals transformed into beautiful angel decorations.
Thanks for your support and Happy Holidays from the staff at the ASSC!