WINNIPEG, MB – The University of Winnipeg's Board of Regents last night approved construction of a new Multi-Purpose Field House, Health and Wellness Complex with shovels expected to be in the ground by Spring 2012, paving the way for one of the most significant athletic and wellness facilities every built in Winnipeg's inner city. The $40 million facility will offer the community unparalleled recreational opportunities, enhance UWinnipeg's students' experience and sports programs, and add to the ongoing revitalization of Winnipeg's downtown.
In addition, the University will create a Sport for All Fund to ensure that inner city youth and new Canadians have access to the facility and the opportunity to realize their full potential. The fund will help cover the costs of quality recreational and cultural programs, cooperatives and mentorships with UWinnipeg students and athletic and academic bursaries.
"Integrated with a renovated Duckworth Centre devoted to health and wellness, the recreational landscape in the inner city is about to change dramatically, with the construction of one of the premier indoor Field Houses in Western Canada," said Dr. Lloyd Axworthy, President and Vice-Chancellor, UWinnipeg. "This is about adding resilience to the lives of youth and the community, offering access and programming in a facility that is unlike any other ever constructed in Winnipeg's downtown. Just as importantly, it is about offering our students and faculty enhanced academic and research opportunities, and creating a campus devoted to athletics and wellness."
Located on Spence Street, the three-story Field House will help alleviate the chronic shortage of indoor recreational space in Winnipeg, offering access to schools, sports camps and seniors, as well as youth and adult leagues.
The state of the art, indoor green space will accommodate three soccer pitches and a multitude of other sports such as flag football, ultimate, baseball and track and field, as well as cultural and community events.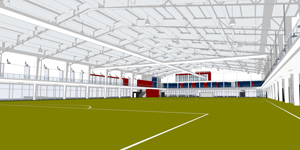 The Field House will include:
a large multi-use artificial turf field
a studio for activities such as dance and yoga
The new Field House will be connected by skywalks to UWinnipeg's Bill Wedlake Fitness Centre and the existing Duckworth Centre which will be renovated to include a new Health and Wellness Centre offering a Lifespan Physical Activity Research Institute. Health services will include:
an athletic therapy clinic
nutrition and obesity programs
The Health and Wellness Centre will be open to the inner city community, offering residents a variety of innovative medical services and an entire block of health and recreational options.
The Faculty of Kinesiology: Enhanced Teaching, Research, and Programming
The new Faculty of Kinesiology, which comes into effect July 2012, combines the academic and administrative strengths of the Department of Kinesiology and Applied Health, and the Athletics Department. With a new Field House on campus, the new Faculty will be able to increase its teaching, research, activity offerings, community programs, health services, student practicums, and part-time employment opportunities for students. It will also include a new research Institute with a focus on inner city children and youth to support applied research, with a particular emphasis on issues affecting the inner city.
A new home for Inner City Sports
Many of the recreational facilities in the inner city are small and outdated and offer only drop-in activities. Due to financial barriers, core area youth are deprived of organized recreation and the many benefits associated with playing team and individual sports.
The new Field House will provide neighbourhood youth with a world-class venue within walking distance of their homes. It will offer organized leagues, sports camps, dance and cultural activities and collaborative programs with UWinnipeg athletes and students.
UWinnipeg currently supports eleven neighbourhood sports teams. It is the goal of the University is to expand community sports programming, using the Field House as a platform to encourage education and develop post-secondary students with a confidence to dream and succeed.
New Canadians, in particular, have an avid attachment to soccer. The new Field House will give the University the ability to run an inner city soccer program year round. It can make the University campus a focus for new Canadian athletes and their families who will come to see the games.
UWinnipeg will create a community charter – a binding agreement ensuring regular access and recreational programming to the inner city. The University is working a coalition of eighteen youth
serving agencies including Boys and Girls Club of Winnipeg, Rossbrook House and Spence Neighbourhood Association, to ensure community activities in the Field House are well conceived, organized and effective.
Funding for the new facility comes from generous government grants – $15 million, Province of Manitoba; $2 million, City of Winnipeg; a student fee approved by student referendum; private donations; and revenues obtained from parking and leases. There is no impact on The University of Winnipeg's operating budget.
As with all new construction on campus, the new Complex will be designed to achieve minimum Silver LEED standard and energy efficiencies consistent with this type of structure.
The new Field House, Health and Wellness Complex is slated to open in Fall, 2013.
Diane Poulin, Communications Officer, The University of Winnipeg