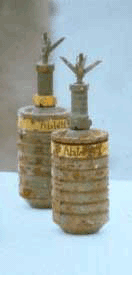 The University of Winnipeg's new Global College & Dialogue Centre will hold its first official event on Monday, December 13, 2004. The Centre's Landmines Awareness Session will featureDarryl Toews of the Manitoba Campaign to Ban Landmines, Lloyd Axworthy, who championed the ratification of the Ottawa Convention/Mine Ban Treaty, and the documentary, "Measured Steps." The session will look at what progress has been made since the Treaty was signed and what steps remain to be taken to rid the globe of these lethal weapons.
Monday, December 13, 2004
11:30 a.m. – 12:30 p.m.
Eckhardt-Gramatté Hall
3rd Floor Centennial Hall
The University of Winnipeg
515 Portage Avenue
The event is free and open to the public.