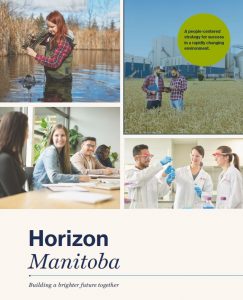 Manitoba universities and colleges, in conjunction with the Business Council of Manitoba, have unveiled a new strategic action plan that outlines a bold vision for delivering the knowledge and skills that graduates need to drive Manitoba's economy forward and thrive in the ever-evolving workforce.
Horizon Manitoba envisions a highly collaborative approach driven by post-secondary/employer partnerships, and was jointly created by the Business Council of Manitoba and Manitoba's post-secondary institutions: Red River College, Assiniboine Community College, University College of the North, Université de Saint-Boniface, Canadian Mennonite University, Manitoba Institute of Trades & Technology, Brandon University, The University of Winnipeg, and the University of Manitoba.
Collaboration enhances competitiveness
"I am very pleased to see that the post-secondary system is working with the Business Council of Manitoba and Manitoba's employers to take action on areas of shared priority that will enhance our competitiveness," said Hon. Ralph Eichler, Minister of Economic Development and Training. "We are building a talent pipeline to meet the needs of our employers. This type of partnership between employers and our post-secondary institutions is exactly what we need for success."
"We know that the pace of technological change is increasing, but with the right skills, knowledge and abilities, Manitobans will lead and succeed," said UWinnipeg President and Vice-Chancellor, Dr. Annette Trimbee. "This is about preparing for the future, and ensuring that Manitobans have access to top quality education."
Growing Manitoba's economy
"Manitoba's leading employers are pleased to partner with colleges and universities to enhance opportunities for students. We believe that the actions identified in the Horizon Manitoba report will ensure we have skilled and talented people who will propel our growing economy forward," said Don Leitch, President of the Business Council of Manitoba.
"The Government of Canada is committed to working with our partners to explore ambitious new ideas, enhance our global competitiveness, and spur new growth opportunities. Through strategic investments and leveraging partnerships and expertise across government, business, non-profit, industry, and academia, we are building a stronger Manitoba and western Canada," said Terry Duguid, Member of Parliament for Winnipeg South.
In recent years, a number of high profile reports (such as RBC's Humans Wanted, and the Manitoba's Economic Growth Action Plan ) have identified the impact of technological disruption, which will affect more than 70 per cent of Manitoba's economy.
Through the actions outlined in Horizon Manitoba, post-secondary institutions, employers, and government can help ensure that Manitobans are ready with the knowledge and skills to maintain meaningful employment, and to grow Manitoba's economy. The actions are strategically focused on areas such as work-integrated learning, Indigenous inclusion, student pathways, and enhanced labour market data. Some ideas are already being implemented. In August 2019, Western Economic Diversification Canada announced a $12 million investment in projects supporting Manitoba's economic growth and global competitiveness.
Horizon Manitoba outlines the importance of maintaining close linkages between post-secondary and leading employers, and increasing work-integrated learning opportunities — providing students with valuable experience, and connections to employers in their chosen field of study, while also giving employers access to new talent and innovative ideas.
By partnering with leading researchers in universities and colleges, small and medium sized businesses (which make up close to 98 per cent of all companies in Manitoba) gain access to invaluable research and development opportunities. It is projected that 60 per cent of job-openings between now and 2024 will require post-secondary education.