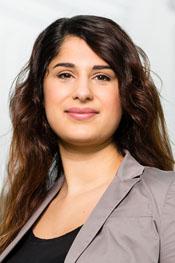 HR graduate Sadia Hashmi
WINNIPEG, MB – People like Sadia Hashmi who are passionate about human resource management will now have an easier time transitioning from classroom to career. The University of Winnipeg is offering the first HR program in Manitoba that mirrors the new Certified Human Resources Professional (CHRP) Designation, the national standard across Canada.
Offered through UWinnipeg's Professional, Applied and Continuing Education (PACE) division, Human Resource Management is a popular diploma program with more than 1,000 graduates like Hashmi now working in Manitoba.
Hashmi, is a Human Resource Coordinator with the Canadian Museum of Human Rights in Winnipeg. She graduated with her UWinnipeg diploma and achieved her CHRP designation in 2013. "It is phenomenal to be part of this unique national project and I plan to keep furthering my career in human resources."
PACE's Human Resource Management Diploma is offered as a full time or part time program. Once students graduate they go on to write exams to attain the CHRP designation.
"PACE has now mapped its courses specifically to match the competencies required by CHRP. What this means for HR students is that they will be best poised and ready to pass the national knowledge exams when they graduate with their UWinnipeg diploma," says Ron Gauthier, Executive Director of the Human Resource Management Association of Manitoba.
The next full time Human Resource Management program begins in May 2015.
MEDIA CONTACT
Diane Poulin, Senior Communications Specialist, The University of Winnipeg
P: 204.988.7135, E: d.poulin@uwinnipeg.ca