As the world meets in Glasgow, Scotland to discuss climate change, the University of Winnipeg's Prairie Climate Centre (PCC) is launching a new and freely available series of online courses that are focused on building climate resilience and adaptive capacity within Manitoba and across the country.
Register for Climate Change 101, taking place November 4, 1:00 -2:00 pm
The courses kick off this November, starting with Climate Change 101 (November 4, 1:00 – 2:00 pm) and Indigenous Knowledges and Two-eyed Seeing (November 10, 1:00 – 2:30 pm), and will set the stage for courses to be delivered in December 2021 and early 2022.
The courses have been designed to be accessible for the public, university faculty and students, governments, and various organizations seeking credible resources on climate change and strategies to meaningfully respond.
"University of Winnipeg's Prairie Climate Centre has a long-term commitment to public education and climate awareness that fosters real-world opportunities for individuals, communities, and professional organizations to increase their resilience and preparedness," said Christey Allen, PCC's Research Manager. "Our team's approach is deeply participatory, linking climate research and community knowledges, and we're really excited to offer this training free of charge for our diversity partners."
"Increasingly professional planners, landscape architects and allied professionals must include climate change into their practice, these courses provide the necessary background, skills, and confidence for these practitioners to promote resilience and adaptation in their work," said Stephen Muirhead, a landscape architectural intern and Research Associate with PCC.
Muirhead has led the development of the planning-focused courses in partnership with local planning and design firm HTFC Planning & Design.
PCC's Co-Director Dr. Danny Blair and Stephen Muirhead will co-present Climate Change 101, a foundational primer for a broad audience, and will cover key mechanisms, terminology, methodologies, and considerations when thinking about climate science.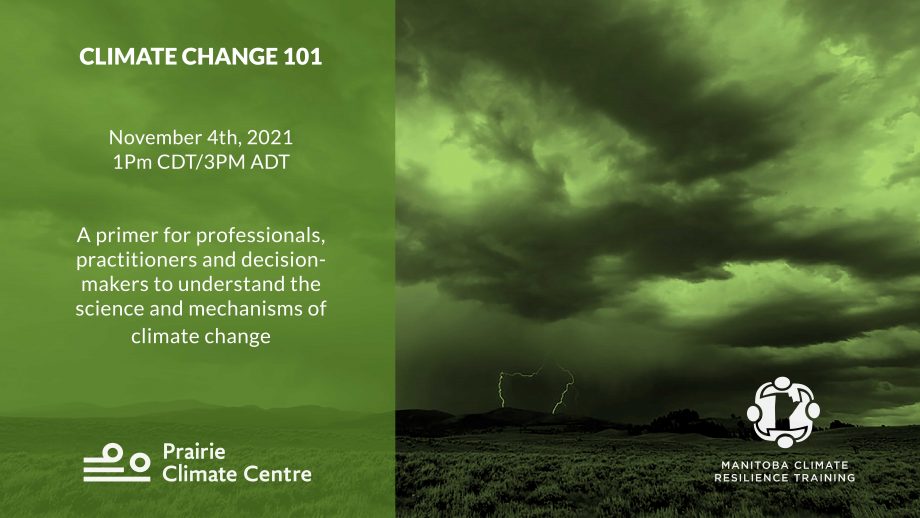 "Indigenous knowledges and communities are critical to solving the climate crisis and provide a framework for developing a new relationship with the earth, atmosphere, and each other," said Brett Huson a Gitxsan artist and author who is also a Research Associate at PCC. "To kick off this offering of courses, we are remarkably fortunate to have Elder Albert Marshall guide us in conversation regarding Indigenous knowledges, two-eyed seeing, and climate change."
Register for Indigenous Knowledges and Two-Eyed Seeing, taking place November 10, 1:00-2:30 pm
The November 10 session will feature Mi'kmaw Elder Albert Marshall – from Eskasoni First Nation in Unama'ki (Cape Breton) – who coined the influential term "Two-eyed seeing."
Structured as a conversation with Elder Marshall – with Brett Huson and PCC Executive Director Dr. Ian Mauro – this is an opportunity to hear from one the world's leading thinkers on the integration of Indigenous knowledge and Western science to address pressing environmental issues like climate change.
This initiative is funded by the Manitoba Government and Natural Resources Canada and part of the Manitoba Climate Resilience Training (MCRT) Project, which brings together diverse partners to offer a range of training courses to support climate resilience regionally and nationally.