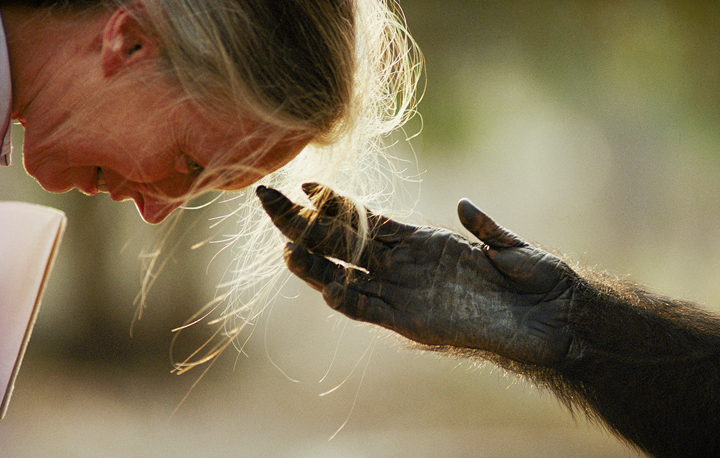 The public is invited to attend a free lecture at The University of Winnipeg by Dr. Jane Goodall, renowned primatologist, at 7:00 pm in the David F. Anderson gym, inside the Duckworth Centre, on Friday, September 11. Line-up begins at 5:00 pm at Duckworth and the door opens at 6:00 pm. Space is limited with seats on a first-come-first served basis.
Dr. Goodall is the second speaker in The Axworthy Distinguished Lecture Series on Social Justice and the Public Good. The first speaker was Dr. Cornell West in May 2015.
WHO:
Dr. Jane Goodall keynote address
WHEN:
Friday, September 11, 2015
Line-up at 5:00 pm, doors open at 6:00, lecture at 7:00 pm and Q and A
WHERE:
Duckworth Centre, 400 Spence Street
Following the event, Dr. Goodall will be signing books. A limited number of select titles will be available for purchase at the event.
In addition to street parking, paid public parking is available under the adjacent Health & RecPlex (access off Young Street) .Accessible parking is available in front of the Duckworth Centre.
BACKGROUND
World-renowned primatologist, environmentalist and UN Messenger of Peace, Dr. Goodall's work at the Gombe Stream Chimpanzee Reserve became the foundation of contemporary primatological research. Her groundbreaking discoveries redefined our relationship with animals as her observations uncovered complex social behaviours in chimpanzees that were previously thought to be unique to humans. In 1977, she established the Jane Goodall Institute, which supports programs for research, education, community development, and conservation. Dr. Goodall's fieldwork is highly respected within scientific circles and has led to the publication of numerous articles and five major books.
Today, Dr. Goodall spends much of her time traveling the globe as an advocate for animal rights and the environment. Her work as a spokesperson for conservation has led to several prestigious distinctions which include the National Geographic Society's Hubbard Medal, Japan's Kyoto Prize, the Ghandi/King Award for Nonviolence, and England's highest honour, Dame of the British Empire.
In keeping with UWinnipeg's commitment to accessibility, the majority of the audience space at Dr. Goodall's lecture will be available as free rush seating. The UWinnipeg Foundation is offering a limited number of reserved seats to new donors to The Axworthy Distinguished Lecture Series to offset costs. Call (204) 988-7496 for more information.
MEDIA CONTACT
Diane Poulin, Senior Communications Specialist, The University of Winnipeg
P: 204.988.7135, E: d.poulin@uwinnipeg.ca