Left to right – David Fitzpatrick, Dean of Kinesiology, UWinnipeg; Alex Gardiner (Rettie son-in-law); Nancy Rettie (daughter); Joan Rettie; AnnaMaria Toppazzini, Director, University Advancement; Dean Melvie, GM Athletic and Wellness Facilities, UWinnipeg – May 2014
WINNIPEG, MB – The Rettie family has made a donation to The University of Winnipeg Wesmen Baseball program, which allows for the purchase of baseball equipment and two unique retractable batting cages located inside the new UNITED Health & RecPlex.
The donation honours Donald Rettie who passed away in 2004. A pitcher nicknamed "Pistol Pete" known for his fiery fastball, Donald played with the Rosedales and the St. Boniface Native Sons and pitched a no-hitter for the Winnipeg Goldeyes in 1953. He was inducted into the Manitoba Baseball Hall of Fame in 1997. He also had a successful business career, retiring as Senior Vice-President, Finance and Treasury at Investors Group.
Joan Rettie has a strong relationship with The University of Winnipeg, graduating with a Bachelor of Arts in 1954, and serving as Lady Stick that same year. (The offices of Lady Stick and Senior Stick were replaced by a single Students' Association President in 1967).She also served on the Board of Regents from 1979-1982 and was President of the Alumni Council in 1981-82. She worked as a social worker in the Children's Aid Society.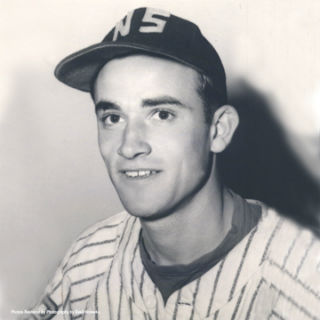 "I love how the RecPlex is in the middle of the community, and will be there for kids as well as the Wesmen," said Joan Rettie, who recently toured the new UNITED Health and RecPlex on Spence Street. "Baseball was so popular when we were growing up. Our family really hopes baseball will become a permanent fixture here. These neighbourhood kids are going to one day be students at UWinnipeg. I love that part of it."
The University of Winnipeg launched the Wesmen Baseball program in 2011, with a primary objective of ensuring that youth who want to pursue baseball in Manitoba while studying do not have to leave the province to do so. The Rettie family was the first donor to the UWinnipeg Wesmen Baseball program in 2012. Today's Rettie family gift will specifically support:
Two new retractable batting cages installed along the sprint track, which offers a unique opportunity to add indoor field practice for the Wesmen Baseball program and community teams. The cages can be lowered through a mechanized system for batting practice, and raised back to a compact position under the ceiling when not in use. When lowered into place, each batting cage is approximately 70' in length, 12' in height and 12' in width.
Equipment for the Wesmen Baseball team includes: clay batting mats, turf, pitching screen, sliding mats, batting tees, protective nets, backstops, pitching machines, training balls, bats, baseballs, softballs, and helmets.
"We are offering a teaching, training, recreational, and multi-purpose facility that gives unparalleled opportunities and benefits to our students, athletes, faculty and the surrounding community," said Dr. Lloyd Axworthy, President and Vice-Chancellor, UWinnipeg."The generous Rettie family donation adds capacity to the Wesmen Athletics program, and just as importantly, allows us to build a baseball presence in Winnipeg's inner city that will provide role models to the next generation of neighbourhood youth."
The UNITED Health and RecPlex ribbon cutting at 350 Spence Street takes place on June 17, and the facility will be open for student and community use in September 2014.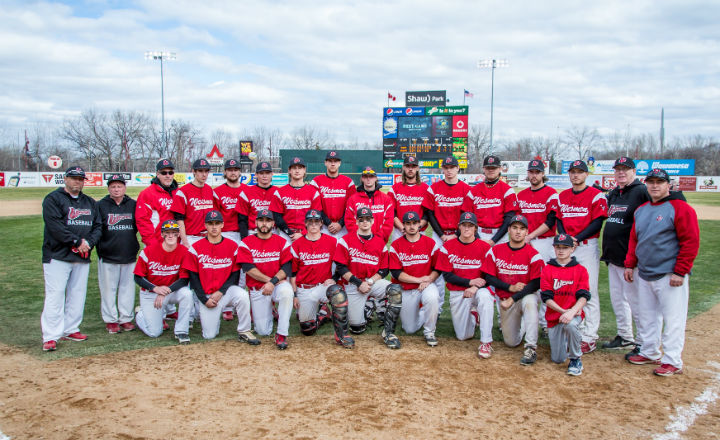 2014 Wesmen Men's Baseball team
Chris Hourihan, Arts Winnipeg, MB
Jarett Hogue, Science Eriksdale, MB
Brent Dunn, Business Carman, MB
Scott Harris, Arts Stonewall, MB
James Zamko, Arts Surrey, BC
Al Andre. Chemistry Winnipeg, MB
Brendan Gaunt, Science Vancouver, BC
Matt Smith, Arts Winnipeg, MB
Adam Luellman, Arts Stonewall, MB
Colton Carlow, Science Winnipeg, MB
Zach Dram, Arts Winnipeg, MB
Shayne Turk, Arts Winnipeg, MB
Zach Campbell, Arts Winnipeg, MB
Nick Drews, Arts Lundar, MB
Branden Kuzyk, Criminal Jus. Winnipeg, MB
Rory Mitchell, Criminal Jus. Winnipeg, MB
Tony Ingram, Kinesiology Winnipeg, MB
Tyler Kemball, Arts Winnipeg, MB
Paul Esteves, Kinesiology Winnipeg, MB
Coaches: Mike Krykewich (3rd Season, Head Coach); Morgan DePena, Kevin Dunn, Josh Drews, Rob Lebleu, Don Neusitzer, Wes Pomarensk
MEDIA CONTACT
Diane Poulin, Senior Communications Specialist , The University of Winnipeg
P: 204.988.7135, E: d.poulin@uwinnipeg.ca