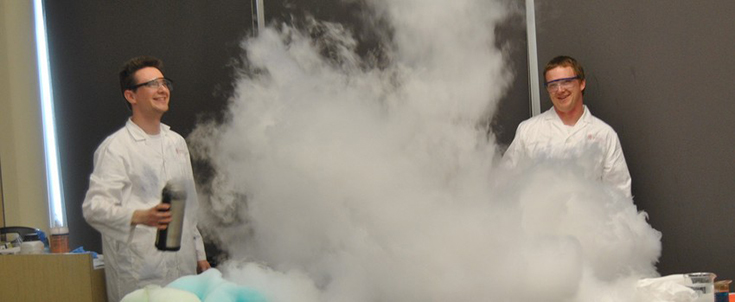 All are invited to tour one of Canada's premiere science complexes and watch experiments in action!
The University of Winnipeg's Faculty of Science is participating in Science Rendezvous by hosting a day-long public open house with activities and experiments inside the state-of-the-art Richardson College for the Environment and Science Complex. Everyone is welcome to drop in to this free event.
WHEN: Saturday, May 11th, 2013; 11:00 am- 3:00 pm
WHERE: Richardson College for the Environment and Science Complex, 599 Portage Avenue
Anyone interested in science and the environment is encouraged to attend where they will meet professional scientists and see a corn starch and water pool, glow room, optics and laser room, a Science of Music room, a chemistry magic show, and applied computer science and anthropology demonstrations, as well as many more fun filled activities.
The science complex, completed in 2011, is one of the finest educational facilities in Canada with more than 30 teaching labs, a rooftop greenhouse and a spectacular public atrium with nine living fig trees and a 3,000 square foot wall of hard maple reclaimed from the Winnipeg Roller Rink previously on the site.
At street-level inside 599 Portage Avenue, Elements – The Restaurant offers nutritious food options with a focus on locally sourced foods, organic ingredients, and a commitment to fair-trade practices. Elements is open 10 am to 9 pm on Saturday with the Brunch menu available from 10 am to 4 pm. Weather permitting the patio will be open.
MEDIA CONTACT
Diane Poulin, Communications Officer, The University of Winnipeg
P: 204.988.7135, E: d.poulin@uwinnipeg.ca