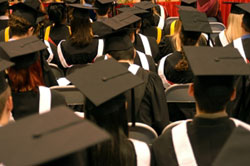 Chancellor H. Sanford Riley, President & Vice-Chancellor Lloyd Axworthy, the Board of Regents, members of the University Senate and the Alumni Association invite faculty, staff, family, friends and the public to honour the graduating class at Spring Convocation. The entire University community also extends congratulations to the University's honorees.
The University's 83rd Convocation will take place:
Sunday, June 3, 2007
University of Winnipeg Duckworth Centre (Spence Street at Ellice Avenue)
10:00 a.m. – Science & Education
3:00 p.m. – Theology & Arts

All are welcome to attend, but seating is limited. Graduating students are asked to limit their invited guests to a maximum of four.
Read More > [PDF: 48KB]