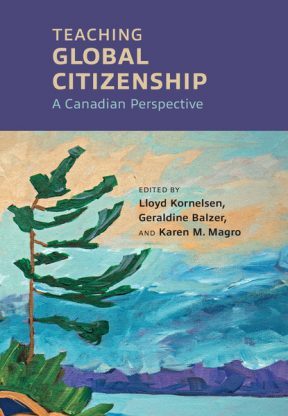 University of Winnipeg educators Dr. Lloyd Kornelsen and Dr. Karen Magro, along with Geraldine Balzer from the University of Saskatchewan, have co-edited a valuable new resource for teachers encouraging young people to cultivate global responsibility.
Teaching Global Citizenship: A Canadian Perspective is written by teachers for teachers. It brings together perspectives from former and current teachers across Canada to tackle the unique challenges surrounding educating for global awareness.
"The stories in this book highlight that social change begins with personal transformation," said Magro. "Sharing and appreciating diverse ways of knowing is one way to challenge individuals to break down harmful misconceptions and stereotypes to create a learning environment that invites belonging and dialogue."
Contributors include members of UWinnipeg's Faculty of Education: Dr. Marc Kuly, Dr. Ken Reimer, Dr. Jeannie Kerr, Dr. Jennifer Chapman-Muir, and UWinnipeg alumni Larry Paetkau.
The stories in this book highlight that social change begins with personal transformation.

Dr. Karen Magro
Each chapter engages with critical questions surrounding teaching global citizenship, such as how to help students understand and navigate the tension at the heart of global citizenship between universalism and pluralism, and how to do so without frightening, regressing, mythicizing, imposing, or colonizing.
"Teachers worldwide are being asked to educate for global awareness and engagement—to involve young people in dialogue about their world, about political responsibilities, and shared obligations," said Kornelsen. "If teachers are increasingly called to educate for global citizenship, and if they can be critical and indispensable in this undertaking, how do they talk of that experience and share their insights? This was a central question of the book."
Based on narrative inquiry, contributors share stories from classroom experiences across diverse educational settings: from New Brunswick to British Columbia to Nunavut, in rural and urban areas, and in public and private schools.
"Each teacher's experience is very unique and specific to a particular context, but key personality traits of these educators emerge: passion, persistence, empathy, creativity, and a commitment to encourage self-agency and empowerment," said Magro.
The book covers a broad range of topics surrounding the complexity of educating for global citizenship. Grounded in narrative inquiry, experiential learning, and teacher-based research, it is a valuable resource for anyone working in global citizenship, curriculum development, and social studies education across Canada.
Plans to present their book at a Commonwealth Council on Education Administration and Management conference in Malaysia were cancelled due to COVID-19, but Kornelsen, Magro, and Balzer are looking forward to launching their book virtually at an upcoming Comparative International Education Society conference.
"This collection of stories provides powerful and diverse perspectives," said Kornelsen. "Our hope is that the questions raised and insights rendered from these stories can serve as guide, inspiration, challenge, and affirmation for teachers, teacher candidates, and teacher educators around the world."
Related programs