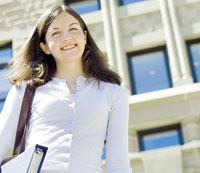 WINNIPEG, MB – The University of Winnipeg continues to be one of Canada's top undergraduate universities, particularly in the area of academic excellence, according to today's Globe & Mail 2007 Report Card. Students gave UWinnipeg top marks for quality of education and class sizes, and finished first among Western Canadian universities for academic reputation, quality of teaching and availability of public transportation. Here are some of the key results:
GLOBE & MAIL RANKINGS – UNIVERSITY OF WINNIPEG
Subject
Quality of Education – Overall: 1st (with three others); Western Canada: 1st (with one other)
Class Sizes – Overall: 1st (with three others); Western Canada: 1st (with one other)
Online Library Resources – Overall: 1st (with five others); Western Canada: 1st (with two others)
Availability of Public Transportation – Overall: 1st (with one other); Western Canada: 1st
Most Satisfied Students – Overall: 2nd (with three others); Western Canada: 2nd (with one other)
Academic Reputation – Overall: 2nd (with one other); Western Canada: 1st
Quality of Teaching – Overall: 2nd (with five others); Western Canada: 1st (with one other)
Library Overall – Overall: 2nd (with six others); Western Canada: 2nd (with two other)
In the survey, UWinnipeg was rated alongside 14 other universities across Canada, including five from Western Canada, with student populations between 4,000 and 12,000. On the academic front, UWinnipeg again placed highly in several key categories earning 'A' marks in class sizes, teaching quality, overall quality of education, satisfaction with university of experience, faculty-student interaction, faculty members' knowledge of subjects and availability outside classroom hours.
"Academic excellence continues to be the hallmark of The University of Winnipeg," said UWinnipeg President & Vice-Chancellor Lloyd Axworthy. "Students have made it clear that they value factors such as the quality of education, academic reputation and class sizes. In this survey, UWinnipeg comes out as one of the best universities in the country. This is a reflection of the professionalism and dedication of our professors, instructors and staff who help to build a positive learning environment for our students."
Canada's undergraduate students also signaled their support for the University's commitment to access and excellence by giving UWinnipeg an 'A-' grade for 'reputation for undergraduate studies' – placing it 2nd in the 'small-medium' category. UWinnipeg's Library services also received positive reviews: a 'B+' overall with 'A-' grades for both hours of operation and online resources, and 'B+' for 'availability of journals/articles/periodicals.'
With a positive ranking of 'B+' in the 'up to date computer equipment on campus' and 'access to course/teaching materials online' categories and a 'B' on the overall quality and availability of technology on campus, computer accessibility and Wi-Fi, The University of Winnipeg has been making strides in the investment and implementation of new technologies on campus.
The Globe & Mail's addition of a new section on sustainability services on campus in its annual report card is appreciated by The University of Winnipeg which has made sustainability one of its primary objectives. UWinnipeg placed first in the number of recycling bins on campus, availability of bike lanes on campus and availability of bike storage spots on campus. As well, UWinnipeg earned an 'A', the top mark in availability of public transportation. Since the survey was conducted in April 2006, the University has implemented a number of sustainable measures including composting on campus, energy efficient lighting and 40 per cent additional green space on campus.
With respect to physical facilities, students were surveyed at the height of construction work being undertaken by the University last April. Since that time, The University of Winnipeg has made significant enhancements to its physical facilities on campus including expansion to the Duckworth Athletic Centre, renovations to the Theatre building, a newly renovated Convocation Hall and a new public urban green space on the front lawn of Wesley Hall.
The University of Winnipeg recognizes that there are areas for improvement and it has already made significant efforts to address those areas. For example, The University of Winnipeg is at the final stages implementing its new Student Information System (SIS). The new SIS will facilitate online registration, online fee payment, and access to grades online. With the Student Central Info Centre, the University is working to streamline services by reducing wait times, simplifying access to information and locating services centrally. The new SIS is scheduled to be in place for registration for the Fall 2008 term.
Additionally, the University has introduced two new important initiatives in the area of Awards and Financial Aid since the survey was undertaken. The Opportunity Fund was launched in the fall of 2007 and will offer a comprehensive approach to improving access to post-secondary education for low socio-economic status youth. Opportunity Tuition Credit Accounts will provide students as early as in the fourth grade with an incentive to stay in school. The program gives students the opportunity to earn "tuition credits," in a sense allowing them to work their way towards post-secondary education at The University of Winnipeg, and instilling at an early age the notion that university education is possible for them. Opportunity Bursaries will provide flexibility and support for both part-time and full-time students. These bursaries will be awarded to applicants who show academic promise, financial need and are from a group currently under-represented at The University of Winnipeg.
The Globe & Mail 2007 Report Card is based on results from responses to more than 80 questions from 43,222 undergraduate students at 53 universities, all current full- or part-time. The survey was conducted by Strategic Counsel and the Educational Policy Institute.
– 30 –
Located in the heart of downtown, The University of Winnipeg is a compact, diverse, multi-cultural academic community committed to access and excellence. Home to more than 9,200 full- and part-time students, UWinnipeg has been ranked by our graduates in the Top-10 of all Canadian universities when asked about their "Entire Educational Experience" (MacLean's Graduate Survey, June 2006). The Globe & Mail Report Card 2006 gives the University of Winnipeg an overall "A" grade in the areas of quality of education, teaching quality, class sizes, faculty-student interaction and the availability of faculty outside of classroom hours. Find out why. Visit http://www.uwinnipeg.ca
FOR MORE INFORMATION
Ilana Simon, Communications Officer, University of Winnipeg
P: 204.786.9930, C: 204.782.3279, E: i.simon@uwinnipeg.ca