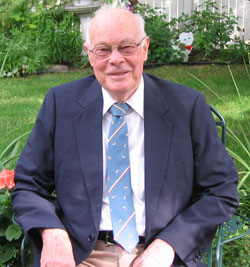 WINNIPEG, MB – The University of Winnipeg announces with profound regret and sadness the passing of Dr. A. Gerald Bedford, renowned educator and historian. He passed away at home, Thursday, December 4, 2008. He was 83 years old.
The University's love for Dr. Bedford is strong. A most respected and beloved icon, he is known for his love and affinity for The University of Winnipeg, his alma mater.
Dr. Bedford grew up on the Manitoba Prairies. He came to United College/UWinnipeg in the fall of 1943 and graduated with a BA in Mathematics in 1948. He earned an MA in Philosophy from the University of Manitoba and obtained a PhD in English Literature – which was his true passion and calling – from the University of Toronto.
Dr. Bedford was always active in the University community. As a student Dr. Bedford was Senior Stick (student president) in 1945-46. Since joining the United College staff in 1951, he was an integral part of the UWinnipeg academic fabric till his passing. He was a lecturer in Mathematics, served as Registrar, and as a professor in English, he was able to instill the love of literature in his students.
Dr. Bedford was also active in a diverse range of activities that contributed greatly to the University. Among his many achievements, Dr. Bedford received the Farquhar Award for Contributions to University governance in 1990, the Robson Award for Excellence in Teaching in 1991, was named Distinguished Alumnus in 1992 and was admitted to the Fellowship of United College in 1993.
His love and commitment to United College/UWinnipeg went beyond his teaching. He was a sports enthusiast with a passion for sports, especially curling and baseball.
He was also the University historian. He wrote two books documenting the history of his alma mater: The University of Winnipeg – A History of Founding Colleges that was published in 1976 and earned him a Margaret McWilliams Award; and The University of Winnipeg Volume II: The First Forty Years (1967-2007) that earned him a nomination for the same award in 2008.
His commitment and educational impact also went beyond the boundaries of UWinnipeg. He was active in curriculum development and teacher in-services for Manitoba schools – an examiner and adjudicator – and nationally, was a founding member of the Association of Canadian University Teachers of English and remained involved with this and other organizations promoting the love of literature.
Dr. Bedford is survived by his wife Jean and their three children. His funeral will be on Tuesday, December 16, 2008 at 11:00 am at John Black Memorial United Church, 898 Henderson Highway. The University community and public are welcome.