Five University of Winnipeg professors have lent their expertise to a new e-book exploring Manitoba's response in the wake of the COVID-19 pandemic.
COVID-19 In Manitoba: Public Policy Responses to the First Wave, a free publication available now through University of Manitoba Press, is a collaborative effort by more than 45 academics that offers insight into "key aspects of the pandemic and (discusses) how government policy can help lay the foundation for resiliency in the midst a continuing public-health crisis." University of Winnipeg professors Jim Clark (Psychology), Scott Forbes (Biology), Joan Grace and Aaron A. Moore (Political Science) were among contributors, as was Jason Hannan, associate professor of Rhetoric, Writing, and Communications.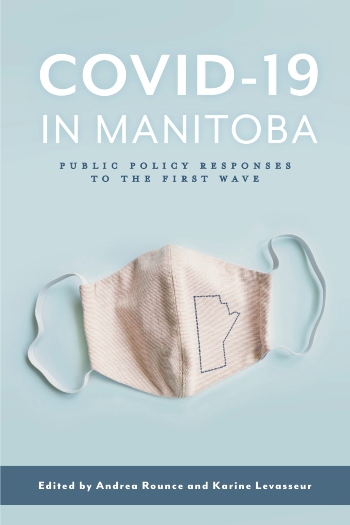 Invited to contribute by co-editors Andrea Rounce and Karine Levasseur, Hannan's chapter investigates ways in which conspiracy theories and misinformation has been perpetuated through social media. It's an issue that has long bothered Hannan, one he believes the public and social media platforms should have checked years ago, and the volume of Manitobans – and Canadians – who have shared conspiracy theories over the past several months has stood out in recent months.
"It indicated to me that we're not really that much better off than the United States in terms of gullibility and irresponsibility when it comes to information," Hannan said. "It seems like we have a problem with media literacy and social media literacy here in Canada, so I thought it was important to bring some sort of critical perspective on why this problem is even happening in the first place."
His hope is that his chapter, as well as those throughout the publication, can inform not only the general public but also public officials, helping those tasked with governing our communities understand and learn from examples across the globe. In particular, Hannan points to the response in New Zealand by prime minister Jacinda Ardern. Hannan notes Ardern's "warm, friendly, and personable style has resonated deeply with New Zealanders, creating a strong sense of solidarity and shared commitment to overcoming the pandemic together."
"Her communication style and model is something that needs to be emulated by readers elsewhere, as well, including right here in Canada," Hannan said. "I think if there is one lesson, it's that eight months into this pandemic, we do have concrete material and empirical lessons we can learn from researchers, from the example of other countries abroad, and this book is an attempt to learn from that and try to apply these lessons locally."
Hannan felt it important to assist in this project in order to aid in giving voice to academics at a time when the public can greatly benefit from the knowledge scholars can impart. Of great importance to Hannan, too, is that the information is being disseminated in an easy, readable format. Too often academic material is not, he said.
"This book does a very good job of (being accessible)," Hannan said. "The chapters are short, they've been written in almost an editorial style, newspaper style, and I think that can go a long way to making the book readable by a literate but non-academic audience. And the fact they've made the book available for free really helps in terms of accessibility because unfortunately academic books can often be very, very expensive."
COVID-19 In Manitoba: Public Policy Responses to the First Wave can be downloaded for free from University of Manitoba Press' website, and those wishing to attend the virtual launch party on Tuesday, December 1, at 7 p.m., can register online.