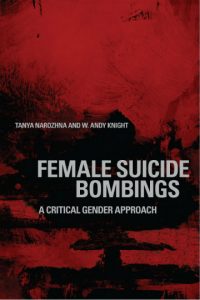 Female Suicide Bombings: A Critical Gender Approach, written by The University of Winnipeg's Dr. Tanya Narozhna, Associate Professor, Political Science (in collaboration with Dr. Andy Knight) has been selected as the first prize winner in the 2018 Women's and Gender Studies et Recherches Féministes Outstanding Scholarship Prize competition.
The review committee states "this year's winning piece takes a controversial and deeply misrepresented subject of urgent contemporary relevance and explores that topic with a keenly conceptualized intellectual rigour, but also a deeply human sense of understanding."
This is the second award Dr. Tanya Narozhna received for this book. Last year she was recipient of the Faculty of Arts Award for Achievement in Scholarly or Creative Activity.
From University of Toronto Press, Scholarly Publishing Division © 2016
Female Suicide Bombings: A Critical Gender Approach By Tanya Narozhna and W. Andy Knight
"As media coverage of terrorism and terroristic acts has increased so too has the discussion about the identities, motives, and gender of the perpetrators. Over the past fifteen years, there have been over 150 reported suicide bombings committed by women around the world. Because of its prominence in media reporting, the phrase "female suicide bomber" has become loaded with gendered notions and assumptions that elicit preconditioned responses in the West.
Female Suicide Bombings critically examines and challenges common assumptions of this loaded term. Tanya Narozhna and W. Andy Knight introduce female suicide bombings as a socio-political practice and a product of deeply politicized, gendered representations. Drawing on a combination of feminist and post-colonial approaches as well as terrorism studies literature, the authors seek to transcend ideological divisions in order to enhance our understanding of how gender, power, and academic practices influence our perceptions of female suicide bombings".