WINNIPEG, MB – The University of Winnipeg continues to be one of Canada's top undergraduate universities,particularly in the areas of class size, quality of education and environmental commitment, according to today's Globe & Mail Canadian University Report 2011. Also new this year Globe researchers asked six "personality questions" and UWinnipeg students ranked their school in the Top-10 amongst all universities in Canada for diversity and innovation.
UWinnipeg ranks 1st or 2nd in Canada in five important categories including class sizes (1st), libraries and environmental commitment (1st), quality of education and course availability. As well, UWinnipeg increased its' ranking over last year in the libraries category.
"The annual Globe and Mail Survey is important because it is the students themselves who rank their academic and student life experience," said UWinnipeg President & Vice-Chancellor Dr. Lloyd Axworthy. "Our students tell us again and again that they value our small class sizes and the personal attention they receive from our professors. We are also gratified to see that this year, UWinnipeg has been singled out for innovative programs and diversity of our student body (1st in Western Canada). And we are very pleased that our students have placed us 1st in Canada for our on-going environmental commitments."
Axworthy noted the Globe survey was completed before the University opened its' newest eco-friendly building, the Buhler Centre, which houses UWinnipeg's popular Division of Continuing Education programs and is poised to house the Faculty of Business and Economics.
GLOBE & MAIL RANKINGS 2011 – UNIVERSITY OF WINNIPEG
SUBJECT
Class Sizes – Canada: 1st (with six others); Western Canada: 1st (with four others)
Environmental Commitment – Canada: 1st (with two others); Western Canada: 1st
Libraries – Canada: 2nd (with seven others); Western Canada: 1st (with five others)
Quality of Education – Canada: 2nd (with five others); Western Canada: 2nd (with one other)
Course Availability – Canada: 2nd (with five others); Western Canada: 2nd (with two others)
Buildings & Facilities – Canada: 3rd (with five others); Western Canada: 2nd (with three others)
Career Preparation – Canada: 3rd (with seven others); Western Canada: 2nd (with two others)
Satisfaction with City – Canada: 3rd (with seven others); Western Canada: 2nd (with three others)
Most Satisfied Students – Canada: 3rd (with seven others); Western Canada: 3rd (with two others)
Quality of Teaching – Canada: 3rd (with five others); Western Canada: 3rd (with one other)
Student-Faculty Interaction – Canada: 3rd (with eight others); Western Canada: 3rd (with three others)
Food Services – Canada: 3rd (with three others); Western Canada: 3rd (with one other)
Recreation & Athletics – Canada: 3rd (with five others); Western Canada: 3rd (with two others)
Atmosphere – Canada: 3rd (with nine others); Western Canada: 3rd (with three others)
Student Residences – Canada: 4th (with three others); Western Canada: 2nd (with one other)
Technology – Canada: 4th (with four others); Western Canada: 3rd (with one other)
Ease of Course Registration – Canada: 4th (with three others); Western Canada: 4th (with one other)
GLOBE & MAIL "PERSONALITY" QUESTIONS
For the first time students were also asked six "personality" questions about their school. UWinnipeg scored highly in the following:
"Does your university have a diverse student body?" – 8th in Canada, 1st in Western Canada
"Is your university innovative / open to new approaches and programs?" – 8th in Canada, 3rd in Western Canada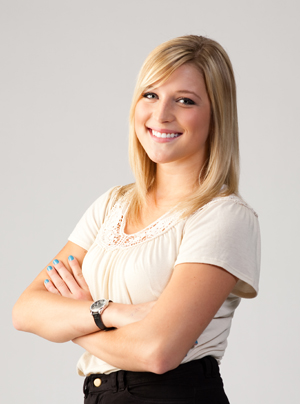 "Choosing what university to go to was one of the hardest decisions I've ever had to make. Being here, I know I definitely made the right decision." Daria Lukie, Business Administration and Accounting student
In the survey, UWinnipeg was rated alongside 20 other universities across Canada, including eight from Western Canada, with student populations between 4,000 and 12,000. The Globe & Mail Canadian University Report 2011 is based on results from responses to more than 100 questions from more than 38,000 undergraduate students at 53 universities. The survey was conducted by the Globe & Mail with its partners the Strategic Counsel and the Higher Education Strategy Associates. The full survey results may be seen at: http://www.globecampus.ca/navigator