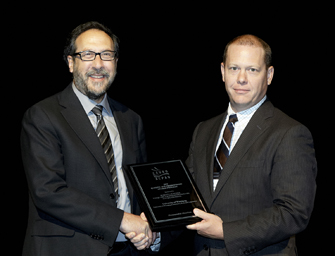 WINNIPEG, MB – The Canadian Association of University Business Officers (CAUBO) singled out The University of Winnipeg from among more than a dozen primarily large universities in Canada for providing leadership in community renewal. UWinnipeg's Community Renewal Corporation (UWCRC) received a plaque and an Honourable Mention at CAUBO's 2013 Quality and Productivity Awards this past weekend in Hamilton.
UWCRC's mandate to support UWinnipeg by developing a sustainable university campus is guided by a four pillared concept of sustainability (environmental, social, economic and cultural). Through its' Community Renewal Corporation, in recent years UWinnipeg has significantly added to downtown Winnipeg's redevelopment; enhanced the West End community with a new student and community residence, a new daycare and state-of-the-art science complex; added a new bookstore; and reimagined an iconic corner with the Buhler Centre which brings together art, education and café dining under one roof.
UWCRC is currently developing the UNITED Health and RecPlex, which will serve as a recreation and wellness hub for both students and the surrounding inner city community. Additionally, the creation of Diversity Foods, in partnership with SEED Winnipeg, provides affordable, local, multi-ethnic food as well as jobs for new Canadians and Aboriginal people.
Beyond UWinnipeg's downtown campus, UWCRC is working with the North End community to oversee the redevelopment of the Merchant's Hotel on Selkirk Avenue. UWCRC is also supporting business development for First Nations associated with UWinnipeg's Master's in Development Practice (MDP) program.
"UWCRC, with its sustainable development mission and special board structure (with half of its directors drawn from the University and the other half from the community) is unique among Canadian universities," said Sherman Kreiner, Managing Director of UWCRC, "We are extremely pleased that CAUBO has recognized its transformative impact, not only on the University, but on the redevelopment of Winnipeg's downtown."
Find out more about UWinnipeg's campus development.
MEDIA CONTACT
Diane Poulin, Communications Officer, The University of Winnipeg
P: 204.988.7135, E: d.poulin@uwinnipeg.ca