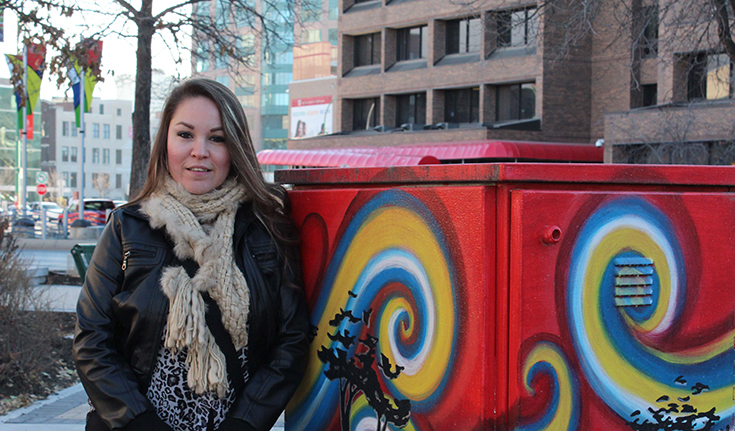 Chantel St. Germain is the first recipient of the Johnson Waste Management Bursary that awards $5,000 per year for up to five years of full-time study. Johnson Waste Management Ltd (JWM), a local company, has helped make this student's dream a reality.
A single mother of two young daughters, St. Germain is enrolled in her first year at the Bachelor of Education/Bachelor of Arts Integrated program at the Winnipeg Education Centre. Part of UWinnipeg's Access Education, the program is committed to preparing highly trained and highly competent professionals to teach in the inner-city community. St. Germain describes the impact this bursary has had on her educational goals:
"It was so difficult trying to find funding for school, especially in the field I wanted to go into. Because of this amazing bursary, I am now able to do what I've always dreamed of, and that is to become an inner-city school teacher."
Eric Johnson, President of JWM, established the bursary to assist a deserving student in the community. "We like to get involved and give back where we can," says Johnson, adding "this bursary is one little way that we can help." Through his charitable work with The United Way, Johnson became involved with Rossbrook House, a Winnipeg organization that offers a safe place for children and youth living in the inner-city. The Johnson Waste Management bursary is awarded to a Rossbrook House student to support their pursuit of a post-secondary education.
St. Germain credits Rossbrook House with much of her success. She has been attending their programs since she was seven years old, first as a student and then as a youth worker. "They taught me that in order to get where I wanted to be in life I had to follow my heart and believe in myself," says St. Germain. She plans to teach at a Rossbrook House school upon completion of her degree.
Johnson Waste Management Ltd. is a Winnipeg-based company that provides service to commercial and municipal clients for collection and environmentally safe disposal of solid, non-hazardous waste. With over 75 years of experience in all facets of the waste industry, Johnson Waste Management offers service excellence with clean, attractive, state-of-the-art equipment for commercial and industrial businesses. They have a long-standing commitment of support to the community and the environment.