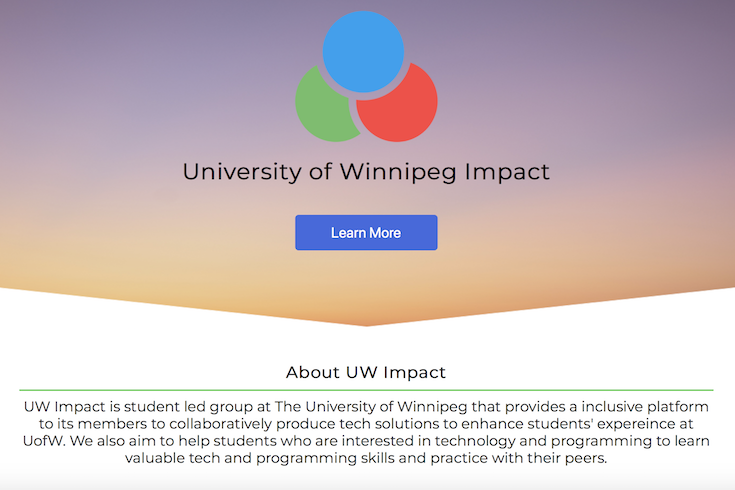 A University of Winnipeg student group is helping other student groups build an online presence and connect with students.
UW Impact, which is mostly made up of applied computer science students, is offering to provide free websites to all approved student groups as an initiative to help reach out to and engage with more students.
The group's goal, according to President Reza Hossain, has always been to motivate UWinnipeg students to engage in the campus community. With the arrival of the COVID-19 pandemic in the spring and the move to remote learning, that goal was amplified even more.
"Because students can't be on campus, it's important to keep them updated with what's going on (with student groups)," he said. "Having that online presence through social media really helps students see what's available and gives them that feeling of being a student while studying online."
In total, UW Impact has created websites for the International Students' Union, Political Science Students' Society, Muslim Students' Association, the Pre-Med Society, Cultural Celebration Club, Indo-Canadian Students' Association, and Improv. There are also two more websites under development..
Hossain says the feedback from the groups they've worked with has been appreciative.
Altogether, there are currently 14 members and the group continues to grow. Of the 14, seven are volunteer web developers who write code for the websites according to the requirements of the student groups. Other positions include a chief developer, web service manager, events director, and two co-directors of communications, along with the group's vice-president and president.
Earlier this fall, UW Impact organized workshops and contests open to all students, so they could learn valuable programming skills in a fun and competitive environment.
"We're organizing workshops quarterly to help applied computer science students gain experience related to their studies and help them with programming," he explained.
For more information about UW Impact, you can contact them on their website, Instagram, or by email at info.uwimpact@gmail.com.