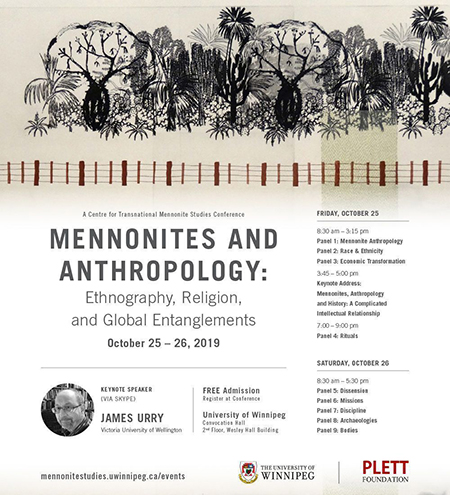 The University of Winnipeg's Chair in Mennonite Studies is hosting an international conference — Mennonites and Anthropology: Ethnography, Religion, and Global Entanglements — at Convocation Hall from October 25 – 26.
UWinnipeg professor of history and Mennonite studies, Dr. Royden Loewen, said this is the first time there's been a conference using the lens of anthropology to understand who Mennonites are.
"It includes everything from Mennonite settlers' views on Indigenous neighbours in Paraguay to Mennonite service workers relating to death row prisoners in the U.S.," he explained. "In other words, it's about culture and culture is about meaning, symbols, and status within Mennonite society."
Mennonites and anthropology share a complex series of entanglements, Loewen said, noting the conference theme builds upon recent ethnographic studies and reconsiders the ways Mennonites have imagined, embodied, and enacted their religious practice.
This historic gathering of anthropologists studying Mennonites will feature scholars from around the world.
"This will be a truly transnational conference," Loewen said. "There will be Canadian, American, Paraguayan, British, German, Japanese, Korean, and New Zealand scholars visiting UWinnipeg."
Friday's keynote address will be via Skype with Dr. James Urry, Victoria University of Wellington in New Zealand. According to Loewen, he's the "leading Mennonite anthropologist who has transformed the very way Mennonites have thought about their own culture and history."
If you want to attend the two-day conference, registration takes place on site, and admission is free.