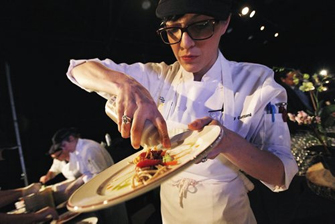 Kelly Cattani at work, photo courtesy of Winnipeg Free Press
Chef Kelly Cattani, of UWinnipeg's Elements – The Restaurant by Diversity Foods, won the gold at Winnipeg's Gold Medal Plates on Friday, October 25, 2013. Her inspired dish of elk tataki seared in avocado oil, served on soba noodles and edamame purée and finished with pickled carrots and crispy rice earned rave reviews from the judges and guests alike. James Chatto, head judge of Gold Medal Plates, called the winning dish "a fascinating mosaic of cool, fresh flavours".
Cattani was one of eight accomplished chefs vying for the gold. Her competitors included some of the most exclusive restaurants in Winnipeg; Tim Palmer from The Velvet Glove, who took home silver, Simon Resch from Terrace in the Park, who earned bronze, as well as the chefs from Peasant Cookery, Sydney's at the Forks, Pizzeria Gusto, Mise and Chaise Restaurant & Lounge.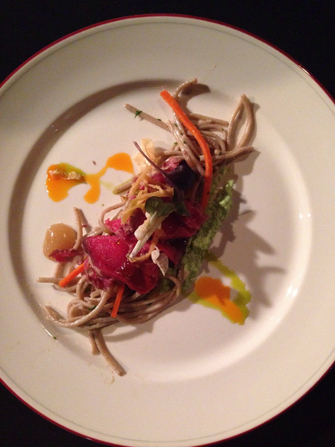 Kelly's award-winning creation
Kelly will join other gold winning chefs from across Canada as they compete in the national Canadian Culinary Championships, held in Kelowna, BC in February, 2014.
Elements – The Restaurant is located in The Richardson College for Environment and Science Complex at 599 Portage Avenue, and is operated by Diversity Food Services, which is committed to creating authentic food using fresh, local ingredients in a socially responsible way. Elements is licensed and open to the public.
Diversity Foods is a joint venture between the University of Winnipeg Community Renewal Corporation, which is mandated to develop a sustainable university community, and SEED Winnipeg, a non-profit agency whose mandate it is to combat poverty and assist in the renewal of primarily inner-city communities.
Gold Medal Plates raises funds in support of the Canadian Olympic Foundation. To date, over $7 million has been raised to assist Canadian athletes live, train and prepare for Olympic competition.
Read the Winnipeg Free Press story here.
SUSTAINABLE FOOD
Also this month, Food Matters Manitoba awarded UWinnipeg's Chef Ben Kramer this year's Golden Carrot Distinctive Honouree. Kramer is nationally recognized for his talents as an epicurean artist and for his ethos. He is known among his peers to be an outspoken advocate for using local sustainable food.
Read Ben's story here.
Find out more about UWinnipeg's distinctive and award-winning Diversity Food Services here.