Province partners with UWinnipeg to construct new building, contribute to Winnipeg revitalization
The Government of Manitoba and The University of Winnipeg are partnering to build a 14-storey apartment complex in the heart of downtown Winnipeg, giving students, families and individuals a range of living options, Housing and Community Development Minister Peter Bjornson, Education and Advanced Learning Minister James Allum, and Dr. Lloyd Axworthy, president and vice-chancellor of UWinnipeg, said today.
"This new building will be perfectly situated to provide a home for students from a variety of backgrounds and will add new richness to the growing downtown community," said Minister Bjornson. "It will create jobs, provide an economic boost for services in the area and build upon our partnership with UWinnipeg, which has changed the landscape of downtown Winnipeg."
"We are pleased to partner with UWinnipeg in a project that will make it easier for students with difficulty accessing affordable housing to move closer to campus," Minister Allum said. "This reinforces UWinnipeg's reputation as a good neighbour, community builder and a great place to obtain a post-secondary education."
"We recognize that many students are also parents with unique housing needs and, with an extremely low vacancy rate, downtown Winnipeg needs more residential options," said Dr. Axworthy. "We are extremely committed to removing whatever barriers we can so that recent immigrants, indigenous people, rural students and adult learners can choose to follow their dreams and obtain a university education. We are also strengthening downtown renewal by offering more market-priced and premium apartments in a highly sought prominent and convenient location."
The 112,000-square-foot building will be located near the intersection of Portage Avenue and Memorial Boulevard, between the Buhler Centre and the Winnipeg Art Gallery across from The Hudson's Bay. It will contain 102 apartments, ranging from one to three bedrooms.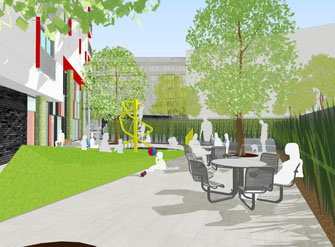 Forty-six apartments will have affordable rents for lower-income Manitobans, with 32 being offered on a rent-geared-to-income basis. The remaining 56 will be offered at market rents, 16 of which will be considered premium units.
The Manitoba government is supporting the project with a loan guarantee and it will be fully
self-financed. It will be eligible for tax increment financing and PST tax credits associated with apartments including affordable units.
Dr. Axworthy noted the university anticipates that a limited equity housing co-op will partner with the university in the ownership of the complex. There will be no impact on UWinnipeg's operating budget.
Housing and Community Development Minister Peter Bjornson, Dr. Lloyd Axworthy, President and Vice-Chancellor, UWinnipeg, and Education and Advanced Learning Minister James Allum,
Construction is scheduled to begin in the spring of 2014 and the project is estimated to be completed in the fall of 2015.
The University of Winnipeg Community Renewal Corp. will be the project developer and will provide property management services. LM Architectural Group will design the building, which is expected to cost $27 million.
A Decade of Transformation – campus development update
– 30 –
MEDIA CONTACT:
Diane Poulin
Senior Communications Specialist
University of Winnipeg
204-988-7135
d.poulin@uwinnipeg.ca
HOUSING INFORMATION:
Send queries to:
housing@uwinnipeg.ca