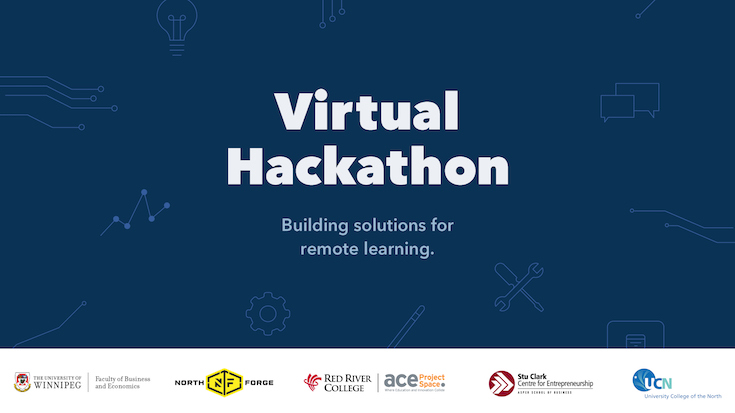 How can remote learning become more effective and how can we enhance student engagement while maintaining academic integrity in a virtual setting?
These are just a few questions post-secondary students across Manitoba will be working together to solve as part of the first ever Virtual Hackathon. The competition, which has been organized by Manitoba institutions and North Forge Technology Exchange, will take place November 20 – 22.
Adam Kozachuk, Business Development Officer in the Faculty of Business and Economics, has been overseeing the project for The University of Winnipeg. According to Kozachuk, the idea for this event was born when Rosalie Harms, Chair of the Department of Business and Administration, had a discussion with North Forge CEO Joelle Foster this summer about the move to remote learning.
"We want to be able to find ways for students to be engaged and excited to learn remotely, as it's obviously much different than being in person with classmates and your professor" Kozachuk said.
With the majority of students shifting to remote learning due to the arrival of the COVID-19 pandemic in the spring, this new era of learning still has room for improvements.
"This unique collaborative hackathon is very timely. An article by CBC News on October 25 highlighted a call for changes to online exam rules as academic misconduct concerns were on the rise," said Foster. "We are hoping that our remarkable post-secondary students in Manitoba can find solutions to this and other remote learning issues. The Manitoba spirit is about working together for the greater good of our province and these leading post-secondary institutions are paving the way."
The Virtual Hackathon is also a great opportunity for students from all areas to get a taste of work-integrated learning, as North Forge is offering to bring in mentors to help students shape their ideas and to provide tips on creating successful pitches.
While some may feel this is purely a tech-based competition, Kozachuk says you don't need to be a computer science student to be successful.
"You could just have a great idea, great presentation skills, and deliver a great pitch to win the competition," he said, adding it's open to all students.
Ken Ly is a fourth-year UWinnipeg accounting major who's also minoring in statistics.
As a student who's adjusted to remote learning and a teaching assistant who leads lab demonstrations for an accounting course, he knows the struggles students and educators are facing as they transition to remote learning.
"My goal for the Virtual Hackathon is to find ways to improve remote learning for students and ways to improve the remote teaching experience for instructors," he said. "I want to work with other students to come up with ground-breaking solutions that will change the way remote learning is done."
Throughout the weekend, participants will work with mentors from across the tech and business sectors to shape and prepare their remote learning solution for the Sunday pitch presentation.
At the end of the 48 hours, teams will present their solutions virtually to a panel of judges for a chance to win cash prizes. Judges will have representatives from North Forge, UWinnipeg, Red River College, the University of Manitoba, and University College of the North.
The winning team will receive $5,000, followed by $3,000 for second, and $2,000 for third place respectively. Individual and team registration for the Virtual Hackathon is open until November 13.