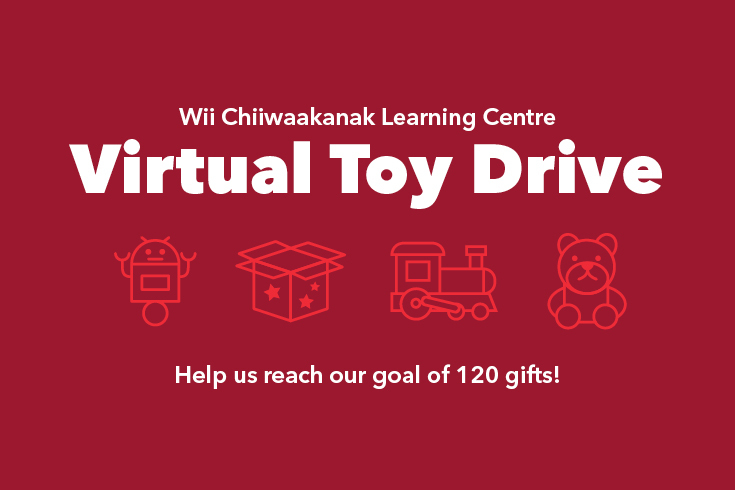 The Wii Chiiwaakanak Learning Centre is making sure families are able to celebrate the holiday season, even during these uncertain times.
They have launched their Virtual Toy Drive, which is part of the centre's annual Holiday Dinner. You can donate a toy by dropping it off at the toy box next to the Security Office at The University of Winnipeg or by making a monetary donation online.
In total, 200 turkey dinners, prepared and packaged by Diversity Food Services, will be delivered by the Wii Chiiwaakanak team, members of Les Marmiton, and wonderful volunteer drivers.
"It was really important that we moved forward with the holiday dinner," said Angeline Nelson, Director of Community Learning and Engagement. "As a team, we are happy we are able to play a role in the helping community stay connected through our programs and also support them by coordinating efforts for this meal to be shared amongst families. Hopefully we are helping to also reduce the stress around the holidays that some families might experience."
Wii Chiiwaakanak works with the Spence Neighbourhood Association (SNA), and roughly 40 dinners are for families from one of the SNA's programs. The other families are from the centre's Pow Wow Club, Sacred Seven Healthy Relationship Program, and Women's Self-Defence Program, all of which are now taking place online.
Every family with children 17 years old and younger will receive a gift and it's expected that 100 to 120 gifts are needed to make the dinner a success.
"We tend to get a lot of gifts geared towards younger children and babies, but what we miss is the teens," Nelson said. "We usually end up using donations to buy for that age category."
During the dinner, there are usually activity stations for the families. To help replicate those this year, the centre is hoping to include gingerbread house kits or games for each family.
Because Diversity is unable to have anyone else in their kitchen due to the pandemic, Les Marmiton, who usually cook all the meals, will instead be sponsoring 150 plates that Diversity will be packaging. Wii Chiiwaakanak is also providing 50 additional dinners to the facilitators and volunteers who'd normally be at the dinner.
Nelson said Wii Chiiwaakanak is grateful they're "well supported by many community organizations," because without the help of Les Marmiton, Diversity, the UWinnipeg Retirees Association, UWinnipeg Foundation, and countless other volunteers, events like these wouldn't be possible.
Toy and monetary donations will be accepted until Wednesday, December 9. Any last minute or extra toys will be donated to another community-focused organization.