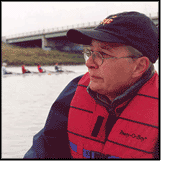 On Thursday, May 1 the annual awards dinner was held at the Winnipeg Convention Centre. The presentation of these awards reflects the YMCA-YWCA of Winnipeg's ongoing efforts to increase public awareness of local women committed to making Winnipeg a great city in which to work and live.
The following women were nominated for or received an award at the reception:
Erica Doty, an award-winning student at The University of Winnipeg, was named Young Woman of Distinction for her commitment to women's rights and educating youth about health and safety issues. She is a volunteer with Teen Talk, UWinnipeg's Womyn's Centre, and the Girl Guides of Canada. In addition to her academic achievements, Doty was the recipient of the United Way Community Service Award in 2001.
Beryle Jones was nominated in the category of Community Voluntarism. She is a charter member and the first President of the Congress of Black Women. Now retired from her duties as professor at UWinnipeg, she is well known at as the creator of the University's first course in multiculturalism, and is equally acclaimed as a charter member and the founding President of the Immigrant Women's Association. Throughout her career, Jones has been involved in a multitude of professional and volunteer organizations including the Manitoba Association of Multicultural Education and the Canadian Citizenship Foundation.
Kathryn Kinley received the Gerrie Hammond Memorial Award of Promise, given to a graduating senior 4 student who displays her potential through a range of academic and community service activities. An honours student at The Collegiate, Kinley was responsible for organizing the 2003 Embracing Cultures Project which brought together more than 200 youths from around the province to address the problem of racism. She also volunteers her time in the name of reducing violence against women and poverty.
Professor and Chair of the Department of Sociology at The University of Winnipeg, Sandra Kirby won for Recreation, Sport, and Active Living. She was a member of the 1976 Canadian Olympic Rowing Team and currently coaches at the Prairie Fire Rowing Club. Author of The Dome of Silence and Running the Gauntlet, Journal of Sexual Aggression, Special Edition on Sexual Abuse in Sport, her sport research in the last five years has focused on sexual harassment and abuse of athletes and on hazing and initiation in sport. She has frequently presented her work internationally and, together with a core of principle researchers in this area, is a member of the WomenSport International Task Force on Sexual Harassment in Sport. Their work has helped influence policy and practice in areas such as abuse and violence in sport and systemic discrimination.
A lawyer, workplace dispute consultant and chartered mediator, Naomi Levine was recognized in the Communications and Public Relations category. She has been the Harassment and Human Rights Officer at the University since 1992. Levine has lectured on women's studies, law, harassment and mediation in Canada and the United States and is a frequent guest commentator on current affairs, legal and ethical issues on CBC Radio's "Morning Show," and CBC-TV. In 1997 she was named National President of the Canadian Association Against Sexual Harassment in Higher Education.
Shirley Render (Class of '64) was honoured in the Arts and Culture category. She is an aviation historian and an accomplished pilot. In 2001 she received the International Northwest Aviation Council Roll of Honour Award, recognizing her contribution to aviation history. She is currently the Executive Director of the Western Canada Aviation Museum, which she has developed into the second largest aviation museum in this country. Render was Minister of Consumer and Corporate Affairs at the Manitoba legislature between 1990 and 1999.