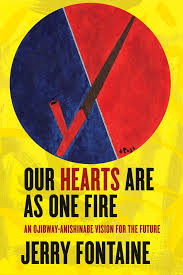 UWinnipeg's Dr. Jerry Fontaine will be celebrating the launch of his new book, Our Hearts Are as One Fire: An Ojibway-Anishinabe Vision for the Future, at an online launch taking place Friday, October 23, 3:00 pm, via Zoom.
Fontaine will be joined by moderator Darrell Boissoneau and family members Steve Pego, Patricia Shawnoo, and Doreen Pine Lesage for a ceremony and profound discussion about the importance of an Ojibway-Anishinabe vision for the future.
Our Hearts Are as One Fire is a shared vision, a manifesto, and a remarkable work that talks about the need for the Anishinabeg to reconnect with non-colonized modes of thinking, social organization, and decision making in order to achieve genuine sovereignty.
The stories of Obwandiac, Tecumtha, and Shingwauk
In the book, Fontaine, with the help of elders and descendants, recounts the stories of three Indigenous leaders, Obwandiac, Tecumtha, and Shingwauk, who challenged aggressive colonial expansion. He weaves Ojibwaymowin language and knowledge with conversations with elders and descendants of the three leaders. The result is a book that reframes the history of Manitou Aki, sharing a vision of how Anishinabe spiritual, cultural, legal, and political principles will support the leaders of today and tomorrow.
Fontaine is an assistant professor in UWinnipeg's Department of Indigenous Studies. This semester, he is teaching Pathways to Indigenous Wisdom (IS-4021) and Indigenous Treaties in Canada (IS-2060). His research focuses on the impact of traditional leadership from the perspective of obwandiac (nigig) and tecumtha (mizhibizhi), shingwauk (ah-ji-jawk) and traditional governance within the context of the n'swi-ish-ko-day-kawn anishinabeg o'dish-ko-day-kawn (Three Fires Confederacy).
Registration is required to participate in the live Zoom webinar at 3:oo pm, on Friday, October 23. The launch will be streamed on YouTube and available for viewing after the event.