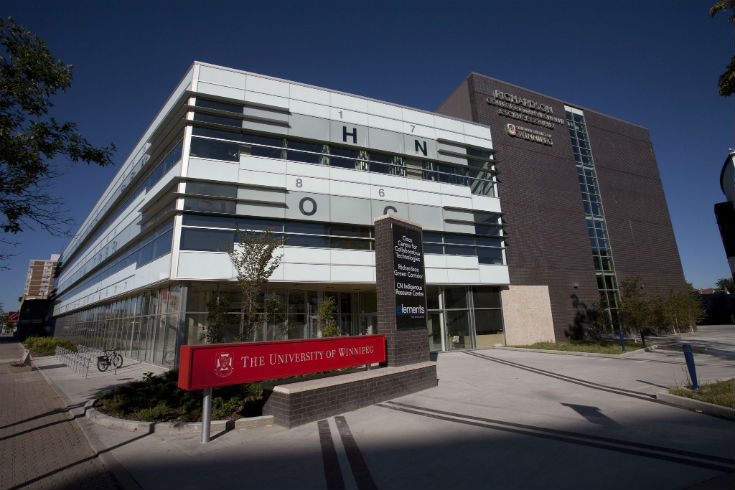 Richardson College for the Environment and Science Complex achieves LEED Gold status
WINNIPEG, MB –Following an in-depth LEED certification process by the Canada Green Building Council, The University of Winnipeg's Richardson College for the Environment and Science Complex has been awarded LEED Gold status, joining an elite group of only 25 buildings in Manitoba to achieve Gold*.
In November 2011, McFeetors Hall: Great-West Life Student Residence and The University of Winnipeg Students' Association Daycare Centre attained LEED Silver status.
"UWinnipeg is known for its commitment to the environment and sustainable practices and we are honoured to be among the eco-leaders in this province, "said Dr. Annette Trimbee, President and Vice-Chancellor. "Our campus has increased in size by 35% in the past decade, yet we have surpassed our Kyoto goals to reduce greenhouse gas emissions during that period. Creating more energy efficient buildings and a "green" culture on campus is consistent with the values of our students, who want responsible stewardship of our resources."
The Richardson College for the Environment and Science Complex (RCESC) provides more than 30 state of the art labs and classroom space for research in areas such as biology, chemistry, environmental studies and sciences, Indigenous science, urban planning and the social sciences. Approximately 2,000 faculty, students and visitors inhabit the building daily. Earlier this month it received first place in the American Society of Heating, Refrigeration, and Air-Conditioning Engineers (ASHRAE)'s Technology Awards for North America. It is now entered on an international basis with projects from around the world.
In June, UWinnipeg and the International Institute for Sustainable Development (IISD) announced creation of a new joint initiative. It will offer research, advice and policy development to governments, businesses and community members on the pressing and increased impacts of climate change. The goal is to identify and anticipate risks to increase community resilience to climate change.
The Richardson College for the Environment and Science Complex, at 599 Portage Avenue, began construction in 2009 with occupancy in 2011. The site was previously the home of a roller rink. During demolition the wood floor was salvaged and later turned into a feature wall in the four-story atrium which also features living fig trees.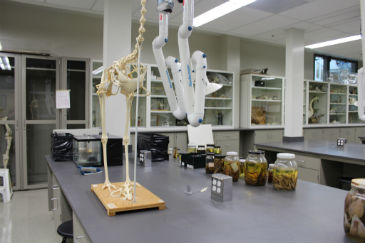 The building is extremely energy efficient and built with sustainability features that include:
A computer programmed three mode air flow system, controllable by occupants, ventilating labs as required, resulting in significant energy savings
A highly innovative heat recovery wheel which cleans and filters lab air and allows warm air to be recirculated, capturing approximately 80% of the energy from lab exhaust
Extensively use of natural daylight with energy efficient windows, skylights and internal windows which borrow light from a central atrium, providing natural light into interior offices and lab spaces
Construction included use of reclaimed wood and approximately 80% of construction waste was diverted from landfill.
LEED (Leadership in Energy and Environmental Design) is a third-party certification program and an internationally accepted benchmark for the design, construction and operation of high performance green buildings. LEED promotes a whole-building approach to sustainability by recognizing performance in five key areas of human and environmental health.
LEED Gold was accomplished as a result of the hard work by the design and development team:
LTD Ventures; the University of Winnipeg Community Renewal Corporation; Number TEN Architectural Group; Manshield Construction LP; Chartier Property Management Inc. and Integrated Designs. In addition, engineers and consultants who worked on the project are Busby Perkins & Will; Scatliff Miller Murray; Crosier Kilgour &Partners Ltd. and SMS Engineering.
There are currently 75 LEED certified buildings in Manitoba – three of which are now at UWinnipeg. Find out more about LEED certification at Canada Green Building Council's website.
*The uniqueness of RCESC is even more compelling when placed in the new construction category. It is one of fourteen new buildings in Manitoba which are LEED Gold (12) or Platinum (2).
MEDIA CONTACT
Diane Poulin, Senior Communications Specialist, The University of Winnipeg
P: 204.988.7135, E: d.poulin@uwinnipeg.ca