WINNIPEG, MB — As Louis Riel Day nears in Manitoba, The University of Winnipeg is proud to celebrate the achievements of 76 Métis students who have been awarded Louis Riel Bursaries this academic year. Since 1999, the Manitoba Metis Federation and its educational arm, the Louis Riel Institute, through funding from Employment and Social Development Canada, have provided more than $2 million in bursaries to Métis students attending UWinnipeg.
"We are growing leaders at The University of Winnipeg, bright minds poised to make an impact on society in a vast range of areas — from environmental research to shaping young minds in the classroom," said Dr. Annette Trimbee, President and Vice-Chancellor, UWinnipeg. "And we are grateful to have a likeminded partner in the Manitoba Metis Federation, providing generous support to Métis students who are striving toward their goals. Together, we are very proud to celebrate their success."
Approximately 10% of UWinnipeg students self-identify as Indigenous, and half of those students are Métis — among the highest participation rates across Canada. UWinnipeg also became one of the first universities in Canada to introduce a mandatory Indigenous course requirement for all undergraduate students.

---
Meet some of the extremely talented 2018-2019 Louis Riel Bursary recipients:
Scott Templeton – Education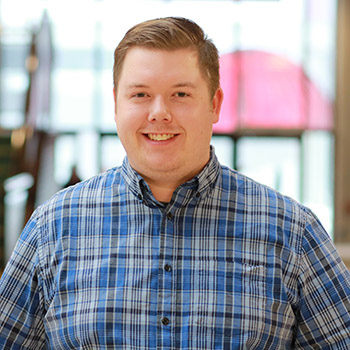 Scott Templeton recently discovered his Métis roots.
After years of research and communication with his family, he created a family tree and went through the process of obtaining his Métis citizenship.
Currently studying in the Faculty of Education, focusing on a history major with a political science minor, Templeton said he'll forever be an advocate of the Louis Riel Bursary.
"Receiving this bursary has filled me with energy and a new level of confidence that will help me reach my goal of graduating," he said. "More importantly, the new sense of pride and boost of confidence constructs a healthier mindset to begin my career as an educator."
Now that he's in his certification years, Templeton doesn't have the same flexibility with his schedule, which means he's had less time to work and paying bills has become tougher. He said that only adds to the importance of the bursary and how it'll relieve a lot of stress as he sets his sights on graduating.
When he does finish his undergraduate studies at UWinnipeg, Templeton wants to give back to future generations by teaching.
"I want to work in a school with a diverse community and a lot of Indigenous students and newcomer families as well."
Marika Schalla – Education and Science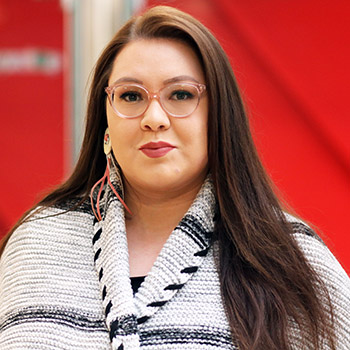 Marika Schalla's final year at UWinnipeg has nearly been stress free.
A mom and full-time student in the integrated Bachelor of Education and Bachelor of Science program, Schalla said the Louis Riel Bursary has allowed her to focus on what's important in her life.
"This year I got to focus completely on my studies, and I have not had to worry about student loans," she said. "And I've been able to spend more time with my son and husband too."
That additional time to focus on her studies has made a real difference. Schalla is delivering great grades and was also a finalist for the 2019 Future Leaders of Manitoba Award in the 20 – 25 age group — making her the only Indigenous finalist as well.
"These bursaries mean UWinnipeg wants Indigenous and Métis students to be successful in their post-secondary education," she said. "They want us here and they want us to have bright futures."
As she looks ahead to her future after UWinnipeg, Schalla hopes to land a teaching job in one of the local school divisions and give back to youth.
Vanessa Bartlett – Access Education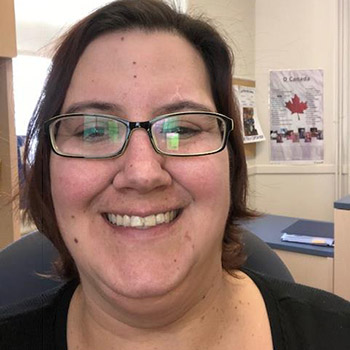 As a mother and wife, going back to school while working is stressful.
For Vanessa Bartlett, who's studying in UWinnipeg's Community-based Aboriginal Teacher Program, that stress was eased with help from the Louis Riel Bursary.
"Having this funding really helps me cement that I can and will complete my degree, and provide a better life for my family," she said.
Bartlett said this bursary is extremely impactful, because it shows UWinnipeg wants Métis students to not only excel in their studies, but set them up for a lifetime of success.
"It shows the campus agencies and companies that Métis students are pursuing impactful careers and following their dreams," she said. "If there was no access to funding, there would be a greater dropout rate for full-time and part-time Métis students."
It also shows the University's willingness to improve inclusion on campus and in the classroom, she added.
"Inclusion is not simply about physical proximity," Bartlett said. "It's about intentionally planning for the success of all students, which includes incorporating Indigenous aspects in all parts of the curriculum"
Abbey Meadows – Kinesiology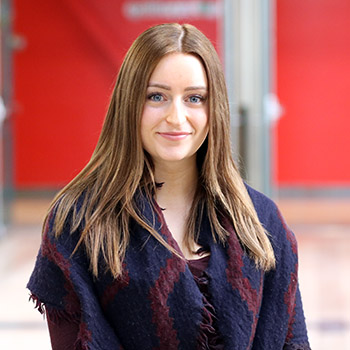 Without the Louis Riel Bursary, Abbey Meadows wouldn't be able to give her full, undivided attention to the five classes she's taking this semester.
"The Louis Riel Bursary is incredibly important and valuable for Métis students, as it assists with their studies and provides them a better opportunity to focus their time and effort on schoolwork," she said. "It also gives students the opportunity to work less, but still be able to afford and to do well in school."
Now in her fourth and final year with the Faculty of Kinesiology, with a focus on exercise science, Meadows has taken on more than just obtaining her degree.
The money received from the bursary has also allowed her to volunteer as the Vice President of the Aboriginal Student Council and become an active member of the Kinesiology and Athletic Therapy Students' Association.
"I always encourage other Métis students I know and meet to apply for the Louis Riel Bursary, so they may be able to benefit and experience these wonderful opportunities that I have been able to because of this bursary," she said.
As she looks ahead to graduation this year, Meadows wants to make a difference in the Indigenous community by working as a physician.
Josh Swain – Biology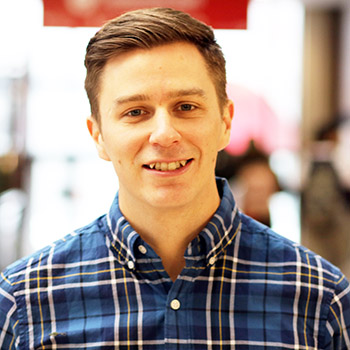 Josh Swain is a mature student who, after an unfulfilling career in finance, decided he wanted to make a real difference by pursuing a career in science and medicine.
Currently in his third year of a four-year biology degree, Swain plans to attend graduate school after obtaining his degree and eventually working as a physician assistant.
He said choosing UWinnipeg over other post-secondary schools was an easy decision because of the small class sizes, central location, and, most importantly, the inclusion.
"UWinnipeg has a really large Indigenous population and they really focus on that, which makes it stand out from other universities."
Swain said the $2,500 he's receiving is really important as a mature student, because he's working part time to put himself through school.
"It's doable, but this money pays for an entire semester for me, which is huge," he said. "It takes that burden off and I can focus on the grades I need to get into a graduate program."
Swain applauded UWinnipeg's continued efforts to support their Indigenous student body — specifically Métis students.
"Many Indigenous students, including Métis, face a lot of obstacles that other students may not necessarily need to face to pursue an education," he said. "Bursaries like this give students a fighting chance, and help them to feel empowered and recognized."
Amber Ali – International Migration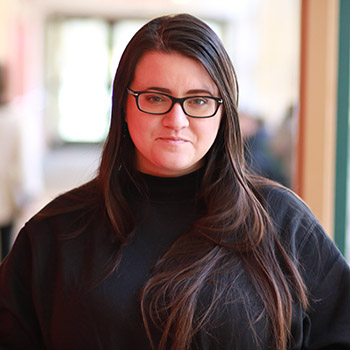 Amber Ali is in her fourth year of a flexible, student-designed major called International Migration, which blends together theory elements from sociology, political science, and international development studies.
After being behind on paying tuition last term, she was able to lose the stress and focus on her courses thanks to the Louis Riel Bursary.
"If I didn't receive this kind of bursary, I would be dependent on working more than I already do, which would affect my academic success," Ali said, noting she already works two jobs.
She credits the University for providing supports such as this bursary, as it gives Métis students who may not have the opportunity to pursue higher education a way of continuing their studies.
"What I have found during my time at UWinnipeg is that if you have the ability and will to succeed, there are supports available."
Looking ahead to life after graduation, Ali has big academic dreams. She wants to continue her studies in a graduate program with the hopes of winning a national scholarship from China to attend Yunnan University and continue studying international migration.
"After that, I intend to continue as a researcher on international migration on a global scale, as well as on migrants coming to Canada."
Megan Lindell – Environmental Studies and Business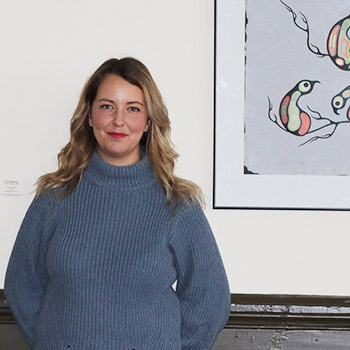 Megan Lindell wants to break down barriers for Indigenous people.
A fifth-year student, she's currently finishing two degrees — one in business and one in environmental studies, with minors in Indigenous studies and rhetoric, writing, and communications.
As she reflects on her years at UWinnipeg, Lindell said the Louis Riel Bursary — which she's been awarded three times — really took the stress away from paying her tuition and opened up volunteer opportunities.
"I wouldn't be able to volunteer and also tutor this term at the Aboriginal Student Centre if I didn't have these funds," she said, noting she offers to help people use programs such as Microsoft Word and Excel. "I'm also in five courses, so just to take that stress off is nice."
The bursaries, Lindell added, really shows the University cares about its Indigenous population.
When both degrees are completed, she has her eyes set on the Master's in Development Practice program and a future career focused on helping share Indigenous knowledge.
"I don't think people always know Indigenous history and don't see the importance," she said. "So I'll work on that the rest of my life."
Dani Nowosad – Science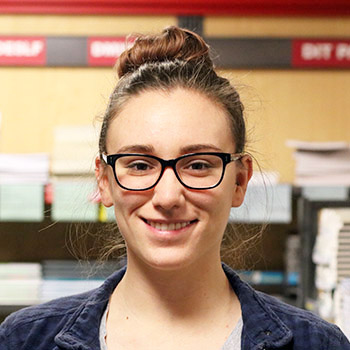 Receiving her first Louis Riel Bursary changed Dani Nowosad's outlook on university.
Before she was made aware of the bursary, the Faculty of Science undergraduate wasn't motivated to be at school because of the stress from paying her tuition. This resulted in a lack of direction academically and feeling like graduating might not even be a possibility.
"I was working three to four jobs at a time and I was just spiraling," she said. "It was a vicious cycle of being busy and miserable because I didn't like what I was doing."
Everything changed for Nowosad when she was awarded her first bursary. She was able to cut back on work, so there were more hours in the week to commit to studying.
She started making connections with professors and participating more in campus life, which opened up avenues for paid positions in research, including the opportunity to work as a research technician for two summers in Churchill.
In her fourth year, Nowosad declared her major and started focusing on physical geography. For the first time, she took five courses in a semester and made it onto the Dean's Honour List. She also received the NSERC Undergraduate Student Research Award, which was made possible by a higher GPA.
"(The Louis Riel Bursary helped) increase my grades, giving me the opportunity to pursue an honours project, as well as other opportunities within my department," she explained. "The success I've experienced since I received my first bursary has allowed me the opportunity to pursue a Master's in Science specializing in Arctic ecosystems, which I will be starting in September 2019."
Evan Loeb – Biochemistry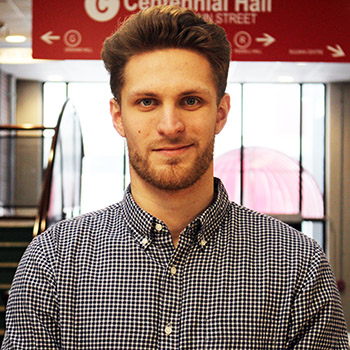 Biochemistry student Evan Loeb is wrapping up his time at UWinnipeg this spring.
His fourth and final year has been an exciting one, as he's applying to dental school and was honoured with his first Louis Riel Bursary.
"The past two years I've had to work part time, so it took quite a bit of time away from my studies," Loeb said. "But this year I can focus on my water research with Indigenous communities, and have been excelling in my courses"
He encourages all current and future Métis students to take advantage of this opportunity next year, as it alleviates a lot of stress surrounding money and paying tuition.
"It's great how UWinnipeg offers this and allows students to pursue opportunities they might have not had time for previously."
Of all the things he'll miss about UWinnipeg, Loeb said it's the welcoming community the University has for Indigenous students.
---
The Louis Riel Bursary is available to Métis students attending participating Manitoba universities. The funds for this award come from the Manitoba Métis Federation and are matched by the University. Students are eligible to apply for this award every year they are at UWinnipeg.