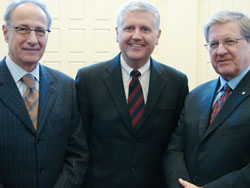 Building on Manitoba's $188-million, low-income housing strategy, Winnipeg's inner-city will benefit from a new fund established by legislation earlier this month, which is expected to reach $14.5 million over the next four years, Family Services and Housing Minister Gord Mackintosh announced today.
Two hundred and thirty-eight new housing units in the Spence and North Portage neighbourhoods will be the first to be supported under the newly-enacted Housing Development and Rehabilitation Fund that will direct Manitoba Housing and Renewal Corporation (MRHC) suburban development profits toward revitalizing the inner-city neighbourhoods.
"Winnipeg is growing. While we are building new suburban communities, older neighbourhoods are undergoing renewal," said Mackintosh. "By directing suburban land development profits to support inner-city housing, we are creating more housing choices for Manitobans at all income levels."
The minister announced today the first $1 million of net profit from development of the Royalwood subdivision in St. Vital will help to fund two new inner-city housing developments creating stronger neighbourhoods.
The North Portage Development Corporation has been awarded $500,000 for the rehabilitation of the Canada Building at 352 Donald St. The project will develop four floors of vacant space and create 60 rental units for those with moderate incomes. Total project costs are estimated at $6.4 million.
"North Portage's mission is to create a mixed-use community where people live, work and play," said Jim August, chief executive officer, The Forks North Portage Partnership. "This funding works directly to help us fulfil our goals, providing us with the seed money to turn an underutilized office building into well-designed, attractive, affordable housing. It is with projects such as this that neighbourhoods are revitalized and strong communities form."
The University of Winnipeg Community Renewal Corporation has been awarded $500,000 for the construction of a 178-unit housing complex including student dormitory-style residences and townhouse-style family homes. This mixed housing facility, to be built on Langside Street next to the proposed new Richardson College for the Environment and Science Complex, would be open to students enrolled at the University of Winnipeg as well as other educational institutions in the city. Costs are estimated at $9 million.
"This investment in Winnipeg's downtown meets a critical need for not only our students but for the community as a whole," said Dr. Lloyd Axworthy, president and vice-chancellor of the University of Winnipeg. "This new housing complex will be built in a flexible way to accommodate students who are raising families while pursuing their studies – an option ideally suited for those coming from remote or northern communities, as well as from abroad. It is part of a new village concept the university is developing to allow more students to both live and learn alongside the residents of the Spence Neighbourhood resulting in an even more vibrant community in the inner city."
Over the next four years, MHRC's share of profits from the Royalwood joint venture is expected to provide $7 million more for housing initiatives for Winnipeg's inner city. Additionally, the development of the south Fort Garry land bank known as Waverley West is expected to provide a net profit of more than $7.5 million.
This complements the $188-million, low-income housing strategy aimed at revitalizing the inner city, improving existing public housing stock, and providing emergency and transitional housing for the homeless announced last April.
Pictured above (left to right): Jim August, Chief Executive Officer, The Forks North Portage Partnership; Hon. Gord Mackintosh, Family Services and Housing Minister; and Dr. Lloyd Axworthy, UWinnipeg President and Vice-Chancellor at the Province's housing announcement in Convocation Hall.