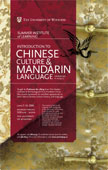 From language and culture to diversity and human rights issues, specialized learning opportunities span the globe at The University of Winnipeg through two new Summer Institutes:
Introduction to Chinese Culture & Mandarin Language
June 5 – 16, 2006
With more than 860 million speakers worldwide, Mandarin Chinese is a primary language in China, Singapore, Indonesia, and Malaysia. Knowledge of this growing language and an understanding of the rich and complex culture in which it developed are important assets in the global community and world market.
Multi-Ethnic Cities & Peace-Building: Linking the Global & the Local
June 19 – 23, 2006
Through this institute, students will explore the challenges, obstacles, and opportunities that present themselves in "global cities" such as Winnipeg. This course will also demonstrate how peace can be fostered and hindered in urban centers in countries such as Canada.