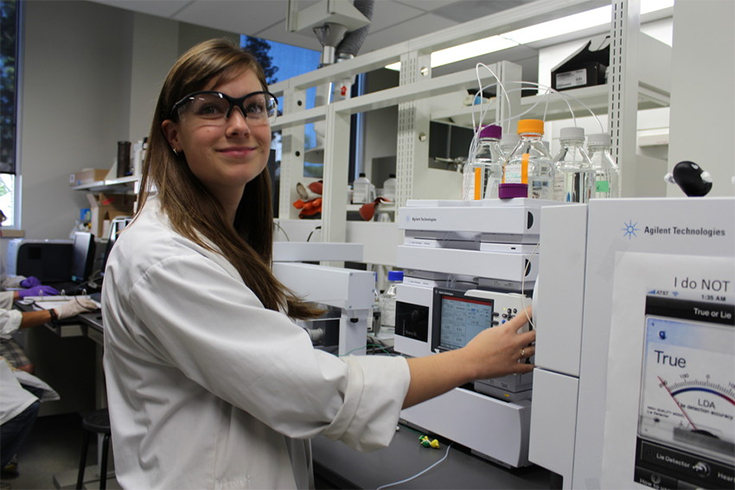 UWinnipeg's Richardson College for the Environment and Science Complex currently has 20 faculty members, including four Canada Research Chairs, that hold a total grant amount of almost $10M. There are also eight labs or research centres in the building with Canadian Foundation Innovation (CFI) funded equipment and infrastructure. In addition, there are other faculty and staff researchers in the building, along with dozens of undergraduate and graduate research assistants who are actively involved in a range of research projects.
More about this facility:
• Fast Facts • Overview • Grand Opening • Recent research news
* * * * *
The following letters from the UWinnipeg community respond to an article that appeared in the Winnipeg Free Press on September 25, 2013.
Letter from Dr. Chris Wiebe
I am writing this letter in response to the story "New science palace bugs entomologist," by Bartley Kives which appeared on September 25th 2013 in the Winnipeg Free Press. It is implied with the tone of the article that the Richardson College for the Environment and Science complex is "not conducive to science." This is solely the view of Professor Rob Anderson from the Department of Biology at the University of Winnipeg. It is my opinion that the Richardson College for the Environment and Science Complex is a world-class science facility that is easily one of the best buildings of its kind in Canada. I believe that this opinion is shared by many of the faculty that have the privilege of working in this building and Dr. Anderson does not speak for the majority of us. I arrived at the University of Winnipeg in 2009 from my previous faculty position at Florida State University in Tallahassee, Florida. One of the big draws for me returning to Canada was not only having the opportunity to teach and conduct research at my alma mater (B.Sc., University of Winnipeg, 1996), but also to be able to build my research lab in the new Science Complex.
My expectations of the new science building were exceeded in almost every way. It is not only an attractive and environmentally friendly structure – the laboratories are clean, efficient, versatile, and very conducive to research.
In Florida, my research program was conducted at the National High Magnetic Field Laboratory (NHMFL) – a National Science Foundation funded facility. The Richardson College for the Environment and Science Complex is of the same caliber as the NHMFL (although not the same size). I have also visited many other science buildings over the course of my career, and I can honestly state that the Richardson Complex is one of the best in its class. Colleagues of mine that have visited the University of Winnipeg have marveled at the new facilities on campus. But I suppose that the proof is in the pudding – upon returning to Winnipeg, I have been able to continue and expand my research program which has resulted in over 40 publications in the last 4 years, a fully equipped world-class materials laboratory, and more funding than I ever received in the US. The Richardson Science Complex is still going through some growing pains – which I assume that Dr. Anderson is alluding to in this article. However, the building itself is a great source of pride for myself and other researchers at the University of Winnipeg, and it holds great potential for the future health of science programs in the province.
Christopher Wiebe,
Professor of Chemistry Canada Research Chair in Quantum Materials Discovery
The University of Winnipeg
* * * * *
Letter from Dr. Joel Kettner
I am an academic and public health physician that feels very fortunate to have an office in the Richardson College for the Environment and Science Complex at the University of Winnipeg. I especially appreciate the convenient access to Elements – the restaurant that was referred to in yesterday's Free Press article.
Dr. Anderson raises some important issues and questions, including the appropriateness of having a restaurant in a science research facility. It appears that Dr. Anderson believes that the presence of labs poses a significant health risk to restaurant patrons and that the presence of the restaurant poses a significant interference with the conduct of scientific research.
Although not stated in the article, I presume that Dr. Anderson has adequate scientific evidence for his views. I am sure that many will be interested to see this evidence, especially the designers and users of similar facilities such as the federal laboratory in Winnipeg, the Basic Medical Sciences Building at the University of Manitoba's Faculty of Medicine, the Health Sciences Centre in Winnipeg and indeed every other hospital in the province. These places and the Richardson science complex share in common at least three characteristics: 1) laboratories, workers or ill patients that share the same physical space and ambient air as a restaurant or cafeteria. 2) lunch or staff rooms located on the same floor and often in close proximity to labs, workers or patients, and 3) many places of animal traffic – mostly non-sterile, walking human beings – most of whom appear to be well despite their frequent exposure to the air and restaurant food!
Dr. Joel Kettner,
Visiting Professor, The University of Winnipeg;
Associate Professor, University of Manitoba Faculty of Medicine;
former Manitoba Chief Public Health Officer.
* * * *
Letter from Dr. Charles Wong
I am writing in response to the Free Press story "New science palace bugs entomologist" published on 9/25/13, in which it is implied that the Richardson College for the Environment & Science Complex (RCFE) of the University of Winnipeg (UWinnipeg) is "not conducive to science". This view is solely that of Dr. Robert Anderson of the UW biology department. I disagree strongly with Dr. Anderson's opinion that world-class science cannot be done in this facility, as I see it happening throughout the RCFE. I joined UW in 2008, having declined an offer of tenure at the University of Alberta. I made this decision in part because of the RCFE's strong potential. At the time, construction had not yet started, and I had the unique opportunity to design the RCFE's Thomas Sill Analytical Laboratory for Water Research Technology (STALWART), which I now direct.
While all new buildings go through growing pains, I can honestly say that the RCFE is a major draw for talented young scientists worldwide to UWinnipeg and to Manitoba, and that colleagues everywhere who have visited have left very impressed.
James Currie, Dean of Science, noted that my research group performs "ultra-fine analyses of water" in STALWART, and that substances such as perfume can't be used there given the need to measure trace chemicals as low as one part in a quadrillion. Dr. Currie is correct. The purity of water we use in STALWART exceeds that which any scientific building can supply, so we have installed additional purifiers of our own as a matter of course, and test this water regularly. As with Elements the Restaurant, STALWART also undergoes annual inspection, with personnel required to undergo extensive initial and refresher training. All work involving biohazards are done in an internal certified facility with no public access–these materials never leave until rendered safe. Since relocating to Winnipeg, I have published many scientific papers in high-quality peer-reviewed venues (9 in 2013 alone, with more to come). This is not only research done at the RCFE entirely by people at UWinnipeg, but also that of invited collaborations with scientists from around the world who also ask us to present our findings internationally. I have raised millions of dollars for research into understanding environmental pollutants–far more than I ever did before. My students (undergraduate, graduate, postdoctoral), research associates, and technicians have collectively won six fellowships and over a dozen best-presentation awards at scientific conferences, from the institutional to the international levels. None of this would have been possible without the RCFE's facilities, which are a significant asset for Manitoba's ability to do cutting-edge science on the world stage.
Charles S. Wong, Ph.D.,
Professor and Canada Research Chair in Ecotoxicology
The University of Winnipeg
* * * * *
Letter from Dr. Désirée Vanderwel
I strongly disagree with the statement that the Richardson College for the Environment and Science complex is "not conducive to science." I am Chair of the Department of Chemistry, University of Winnipeg, which is one of the main occupants of the building. By any measure, my department is thriving in our new home. In the past few years we have made some outstanding new hires — young scientists who are both committed teachers and world-class researchers, who were attracted to our state-of-the-art facility. The facility has allowed us to attract and retain two individuals who hold Tier 2 Canada Research Chairs.
My faculty members use the new lab facilities in numerous cutting-edge research projects, funded by external granting agencies. They publish; they present their work at conferences; they supervise numerous students at every level (undergraduate, graduate, and post-graduate); and they collaborate with scientists at other institutions. All of these activities were hampered in our previous facility. The Richardson College for the Environment and Science Complex literally opened the door to the future for my department.
The Richardson College and Science Complex is a signature facility that Manitobans can be proud of for decades to come. My department is proud to call it Home.
Dr. Désirée Vanderwel
Chair, Department of Chemistry
The University of Winnipeg
* * * * *
Letter from Dr. Doug Craig
I happen to be very happy with our new sciences building and am thankful to both the donors and taxpayers for it. My lab is great. I have more space. The layout of the lab is excellent. I am very happy with my office. I like the idea of all the faculty having offices and the students having desks in the same area. I don't want to sound ungrateful for the space I had in our old building, but the new one is a huge improvement. The teaching labs are also excellent as are the classrooms. I also think that the atrium is beautiful. It is a great venue hosting events.
I was the acting Chair of Chemistry during our first 6 months in the new building. I realize that there were some minor concerns. This is to be expected in a new building of this type. It was my job to document them on behalf of my department and request that they be addressed. The small problems that we had were fixed. The building is world class.
Dr. Doug Craig, Professor
Chemistry Department
The University of Winnipeg
* * * *