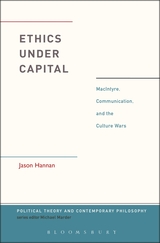 Dr. Jason Hannan, Associate Professor in the Department of Rhetoric, Writing, and Communications, has just published his new book, Ethics Under Capital: MacIntyre, Communication, and the Culture Wars.
Drawing from the thought of political philosopher Alasdair MacIntyre, Ethics Under Capital explores the challenges of democratic discourse in an era of toxic politics and anti-social media.
"After the election of Donald Trump and the ensuing political and cultural chaos in the United States, we were left wondering, 'What on earth just happened?' There were no easy answers," said Hannan. "My book is an attempt to explain the chaos by placing it in a larger historical context."
Hannan adds that MacIntyre is a widely read, but commonly misunderstood thinker. Ethics Under Capital therefore has three distinct aims: to introduce MacIntyre's thought to a new readership, to demonstrate the critical power of his ideas, and to propose a way forward through our new "Dark Ages."
Ethics Under Capital is the latest in Bloomsbury's Political Theory and Contemporary Philosophy Series, which "encourages a sustained dialogue between the most important intellectual currents in recent European philosophy… and key political theories and concepts, both classical and modern."
This is Hannan's third book. He is also the editor Philosophical Profiles in the Theory of Communication (Peter Lang, 2012) and Truth in the Public Sphere (Lexington, 2016).
MEDIA CONTACT:
Jennifer Cox, Communications Officer, The University of Winnipeg
T: 204.988.7671 E: j.cox@uwinnipeg.ca
Endorsements
"In our confused time of the culture wars, the ethical foundations of our lives are fatally weakened, caught in the deadly interplay between utilitarianism, relativism, religious fundamentalism, and empty moralist absolutism. Is there a way out of this new Dark Age? Jason Hannan makes a forceful case for the renewed relevance of Alasdair MacIntyre's ethics of the virtues, grounded in a common way of life. Our age of extremes calls for a return to the Aristotelian tradition. What makes Hannan's book especially attractive is his insistence on the anti-capitalist edge of MacIntyre's thought. Ethics Under Capital is a book for everyone in search of a reliable compass in a stormy sea."
– Slavoj Žižek, International Director of the Birkbeck Institute for Humanities, and Professor at the Institute of Sociology, Ljubljana, Slovenia
"If you want a quick diagnosis of the present distress and a strong suggestion for a solution, read this book. Its analysis of ethics under capital is as limpid and refreshing as stream water from a glacier melt. Jason Hannan's restorative reading of a contrarian thinker offers a duet of sanity for a world gone mad."
– John Durham Peters, María Rosa Menocal Professor of English, Yale University, USA
"Rather than another attempt to explain Alasdair MacIntyre's philosophy, Jason Hannan uses it to interrogate the world of contemporary politics and suggest how it might be changed. Ever wondered what Macintyre can teach us about how to respond to the likes of 4Chan and the Alt-Right? This is the book for you."
– Neil Davidson, School of Social and Political Sciences, University of Glasgow, UK
"In Ethics Under Capital, Jason Hannan addresses a moment of crisis and opportunity for the left. Against the false universals of Rawls and Habermas on the one side and the anti-rationalism of Mouffe on the other, he draws on Alasdair MacIntyre's critique of contemporary moral theory to explore the practical and ethically justifiable co-ordinates of resistance to capital and the state. The result is a fascinating and thought-provoking book that deserves to be read by anyone interested in the struggles for a better world."
– Paul Blackledge, author of Marxism and Ethics and, most recently, Friedrich Engels and Modern Social and Political Theory