WINNIPEG, MB – This summer, a total of 1,200 inner-city children will attend UWinnipeg's Eco-U summer camp, participating in fun environmental activities with a focus on Indigenous science. This free camp — now in its sixth year — aims to address summer learning loss while removing the barriers to participation commonly faced by inner-city youth. Since the camp's inception in 2007, more than 5,000 children from approximately 35 inner-city schools have attended the program, making it the largest day camp for children in inner-city Winnipeg.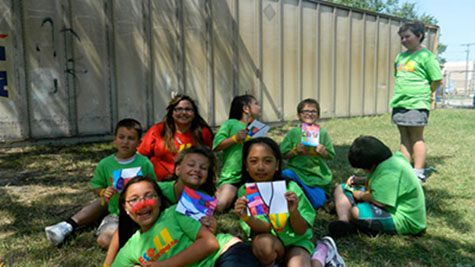 In addition to the programing, UWinnipeg provides transportation, nutrition, supplies, T-shirts, re-usable water bottles, and canvas bags to each participant. This is possible thanks to generous contributions from both the private and public sectors.
Lindsay Courchene is an Eco-U camp youth leader and University of Winnipeg Collegiate Model School student. "I love working with the kids," she expressed. "We have over 190 children every day at camp this year. The kids have tons of energy and we want to make sure they have a great experience."
She added: "I have learned so much over the years on how to work with children. I have gained so much self-confidence and have made many friends. I am very glad to have had so much opportunity for training and developing my skills throughout the years."
Like Lindsay, the Eco-U camp youth junior leaders come from local high schools and receive training in level one coaching — including first-aid and CPR — and leadership development seminars throughout the school year. This ensures they have the necessary training to be employed at the camp.
The camp is one of many Community Learning initiatives offered via the Innovative Learning Centre at The University of Winnipeg. All are based on a neighborhood outreach-focused model aimed at dissolving the line between campus and community. UWinnipeg's Eco-U Summer Camp also maintains a close partnership with the non-profit Winnipeg Aboriginal Sports Achievement organization, for the development and delivery of the program.
Lindsay attends the University of Winnipeg Collegiate Model School and will graduate in May, 2013. She plans to study Culinary Arts at Red River College, as she loves to cook. Lindsay participates in all of the Model School training and certification sessions and has acquired many skills, creating an impressive resume. She has been a Eco-U camp youth leader for four years. During this time she has been certified in first aid and CPR, Level 1 Coaching, refereeing, conflict mediation, babysitting certification, tennis coaching, and leadership development. She also takes part in Restoring the Sacred, a youth leadership group with Ka Ni Kanichihk. Lindsay is from Sagkeeng First Nation and still has many close ties to her community.