November 18, 2015 – "Reconciliation is not as complicated as we think. It boils down to this. I want to be your friend, and I want you to be my friend."
In a packed ballroom in Winnipeg's Fort Garry Hotel, more than 450 people gathered last night at The University of Winnipeg's 9th annual Duff Roblin Award Dinner to hear the Honourable Mr. Justice Murray Sinclair deliver those simple and profoundly moving words.
As the recipient of the 2015 Duff Roblin Award, Sinclair's keynote address focused on how Indigenous and non-Indigenous people can move forward together and heal from the damaging effects of the residential school system, as well as the past public school curriculum, which taught everyone to believe that Aboriginal people and knowledge were inferior to European ways.
Sinclair has touched off a national dialogue since releasing the seminal Truth and Reconciliation Commission report in June, which outlines 94 recommendations aimed at building bridges between the Indigenous and non-Indigenous communities.
"My challenge to everyone would be to find one — just one — of those 94 recommendations that touches you. Then make it happen," Sinclair told the diverse audience of students, faculty, business and community leaders.
Emceed by Wab Kinew, UWinnipeg's Associate Vice-President, Indigenous Affairs, the dinner featured a unique new concept: sponsored Conversation Tables. Animated discussions around the idea of reconciliation took place with numerous Indigenous community leaders including Diane Roussin, Chair, Indigenous Advisory Circle, UWinnipeg; Jennefer Nepinak, Senior Advisor, Aboriginal Programs, Canadian Museum for Human Rights; Bruce Miller, Senior Development Officer, Indspire; and the Honourable Kevin Chief, Minister of Jobs and the Economy (and a graduate of UWinnipeg).
"I see three things happening here tonight," said Chief. "First, people are really taking the time to honour the achievements of Justice Sinclair. Secondly, this is an incredible networking event with people from all walks of life engaging in sincere conversations. Thirdly, and most importantly, it is a celebration of our stories of resiliency and success."
Sherri Walsh, also a graduate of UWinnipeg and current UWinnipeg Foundation member, was Honorary Co-Chair for this year's Duff Roblin Dinner, along with James Wilson, Treaty Commissioner of Manitoba, and Bob Kozminiski as Dinner Chair.
"The feeling in the air tonight is a tribute to Justice Sinclair and the true spirit of reconciliation," said Walsh. "Reconciliation is about building relationships, and doing so in a responsive and compassionate way. There is a sense in the room that everyone wants to participate in this joint venture."
The Honourable Duff Roblin (1917-2010), former Premier of Manitoba, was a lifelong advocate for advanced education in Manitoba. Proceeds from the Duff Roblin dinners directly support Indigenous scholarship at UWinnipeg; more than 35 students have received fellowships through the Duff Roblin Scholars Fund to date. It is estimated last night's dinner raised more than $125,000 to support students.
"It takes an incredible amount of work by the dedicated volunteer board of the Foundation to create such a successful evening, one which will help so many students pursue their dreams," said Dr. Annette Trimbee, President and Chancellor, UWinnipeg. "The evening is inspiring. Winnipeg is at the centre of this Indigenous renaissance, and Justice Sinclair's report gives us a roadmap. As he says, education is key to moving forward together — that, and those simple words: I want to be your friend."
Thank you to the numerous dinner sponsors and the UWinnipeg Foundation Board of Directors: Chair, Dr. H. Sanford Riley; Vice Chair, Dr. R.M. (Bob) Kozminski; Dr. W. John A. Bulman; Dr. James D. MacDonald; Daniel A. Bubis; Eric Johnstone; Dr. Douglas W. Leatherdale; Charles N. Loewen; Albina Moran; Dr. James A. Richardson; Edward A. Sellers; Gregory D. Tretiak; Sherri Walsh; Robert (Bob) Silver; Dr. Annette Trimbee; and Brian Daly, Foundation President and CEO.
MEET THE 2015 DUFF ROBLIN SCHOLARS – Vanessa Tait and Justin Johnson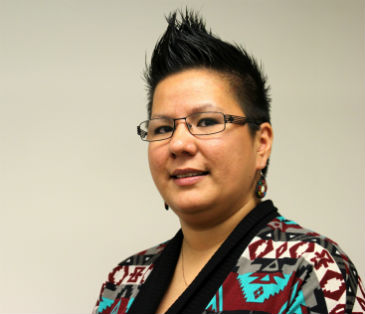 Vanessa Tait
Born and raised in northern Manitoba, Vanessa Tait is proud of her roots as a Cree woman from O-pipon-na-piwin Cree Nation, also known as South Indian Lake, Manitoba.
Vanessa is currently obtaining her Master's in Development Practice: Indigenous Development degree at The University of Winnipeg. She holds a Bachelor of Commerce (Honours) Degree majoring in Aboriginal Business Studies from the University of Manitoba (2012) and has also completed the Indigenous Women in Community Leadership program at the Coady International Institute at St. Francis Xavier University in Antigonish, Nova Scotia (2011). In 2014, Vanessa achieved the designation of Certified Technician Aboriginal Economic Developer (TAED).
Vanessa participates actively in knowledge exchange and has attended and presented at numerous conferences. She is a community leader, as demonstrated by her involvement as Co-Founder and Secretary for Manitoba Moon Voices Inc., a non-profit Indigenous women's organization. She has also served on the Board of the Council for the Advancement of Native Development Officers.
Justin Johnson
Justin Johnson is Red River Métis and the great-great-great grandson of André Beauchemin, member of Louis Riel's provisional government. In October 2014, he graduated from The University of Winnipeg with a Bachelor of Arts in Philosophy. In January 2015, Justin joined The University of Winnipeg's Master of Arts in Indigenous Governance program with the aim to discover and develop Métis political philosophy based on Louis Riel's writings.
Over the years, Justin has dedicated himself to his community—whether it be locally, provincially, or nationally—as the president of the Conseil jeunesse provincial (CJP), vice-president of the Fédération de la jeunesse canadienne-française (FJCF), member of the Union nationale métisse St. Joseph du Manitoba (UNMSJM), and director of the Directing Committee for the États généraux de la francophonie manitobaine of the Société franco-manitobaine. In these circles, he continues to apply, practice, and encourage principles of Red River Métis governance.