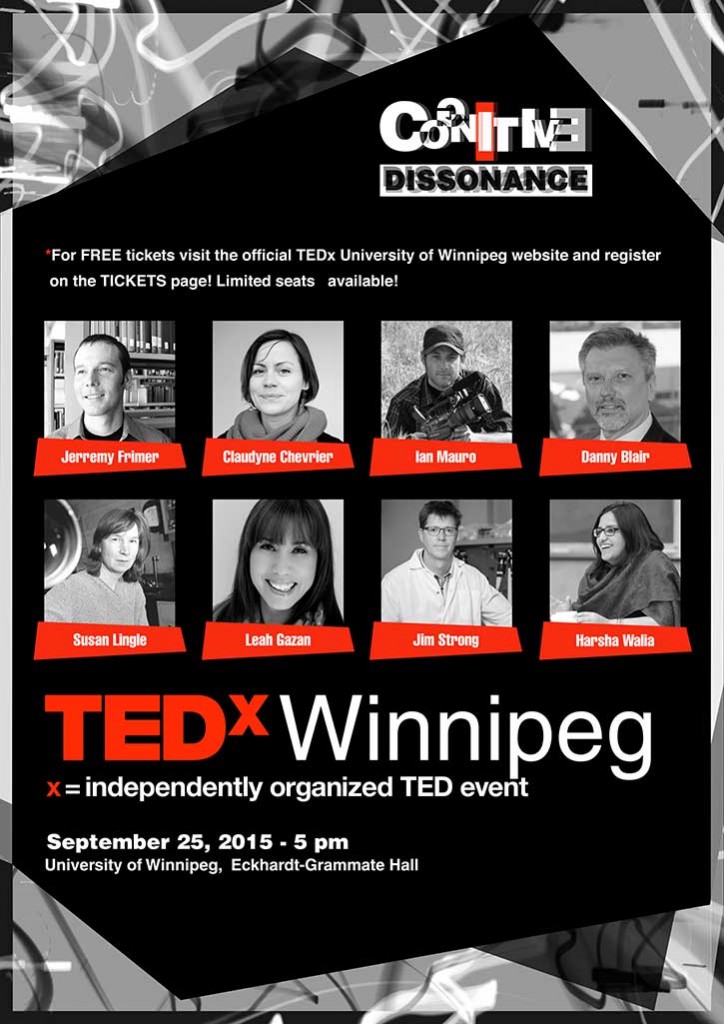 TED is coming to The University of Winnipeg for its first-ever TEDx event happening on September 25th 2015 at Eckhardt Grammte Hall at 5PM.
This independently organized TEDx event will gather speakers and audience members from diverse backgrounds to create new synergies, connections and collaborations across various disciplines.
Below are the list of confirmed speakers for the event:
Jeremy Frimer – Moral Psychologist
Claudyne Chevrier – Medical Anthropologist
Danny Blair – Climatologist
Ian Mauro – Climate Change Filmmaker who filmed with David Suzuki
Susan Lingle – Behavioral Ecologist
Leah Gazan – Indigenous empowerment Advocate
Jim Strong – Virologist who worked in Sierra Leona, fighting Ebola
Harsha Walia – Social justice activist & acclaimed writer based in Vancouver.
We've got speakers from many disciplines shaping their presentations around the theme of cognitive dissonance. Cognitive dissonance refers to a situation involving conflicting attitudes, beliefs and/or behaviors. This produces a feeling of discomfort leading to an alteration in one of the attitudes, beliefs or behaviors to reduce the discomfort and restore balance.
More information on TEDx at UWinnipeg.
About TEDx = independently organized event: In the spirit of ideas worth spreading, TEDx is a program of local, self-organized events that bring people together to share a TED-like experience. At a TEDx event, TED Talks video and live speakers combine to spark deep discussion and connection. These local, self-organized events are branded TEDx, where x = independently organized TED event. The TED Conference provides general guidance for the TEDx program, but individual TEDx events are self-organized.
About TED: TED is a nonprofit organization devoted to Ideas worth Spreading. Started as a four-day conference in California almost 30 years ago, TED has grown to support its mission with multiple initiatives. The two annual TED Conferences invite the world's leading thinkers and doers to speak for 18 minutes on a diverse mix of topics. Many of these talks are then made available, free, at TED.com.
MEDIA CONTACT:
Dele Ojewole, Publicity Coordinator TEDXUniversityofWinnipeg
Email: tedxuwinnipeg@gmail.com