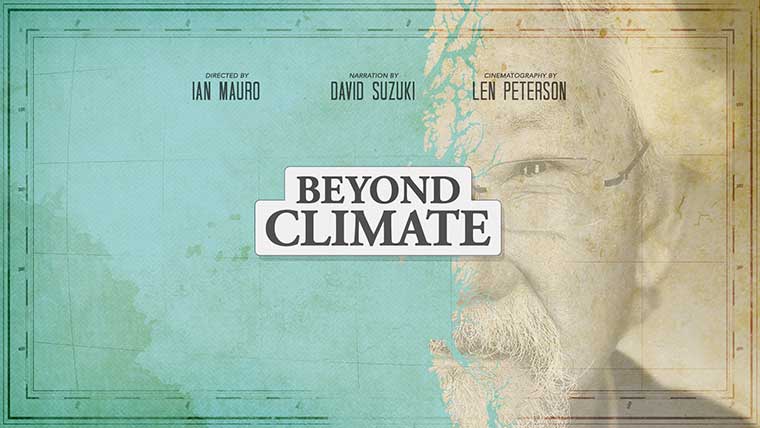 David Suzuki helps launch new film directed by UWinnipeg professor
Dr. Ian Mauro's latest climate change film, Beyond Climate, will have its world premiere at Planet In Focus International Film Festival in Toronto (Friday, October 26) and its Winnipeg premiere at the Gimme Some Truth Documentary Festival (Friday, November 2). The film takes viewers beyond the headlines and into the heart of pressing climate issues — from pipelines and Indigenous rights to forest fires and changing oceans — that are facing British Columbia and the country.
"Beyond Climate is a wake-up call that shows how a warming world is already affecting ecosystems, human communities, and the economy," said Mauro. "British Columbia is a sentinel province in Canada, in terms of climate impacts, but also solutions that can get us beyond the challenges to realize a truly sustainable future."
The film is narrated by Dr. David Suzuki — renowned scientist, broadcaster and author — who will be attending the events in Toronto and Winnipeg to speak with media and participate in a Q-and-A at the screenings. Suzuki and Mauro are longtime collaborators, and this is their fifth joint speaking tour to engage Canadians on climate change.
"This film is particularly important in the context of the recent UN report on climate change, which suggests we only have about a decade to radically reduce fossil fuel use in order to stabilize the climate," said Suzuki. "We've got one last shot at making this right for future generations and I encourage all Canadians to be part of climate dialogue and action."
The UN's Intergovernmental Panel on Climate Change (IPCC) recent report, entitled Global Warming of 1.5°C, indicates that it is possible to stabilize the climate — provided we act within the next decade to be globally carbon neutral by 2050.
Beyond Climate represents the most recent segment in Mauro's trilogy of climate change films across Canada, which includes Qapirangajuq: Inuit Knowledge and Climate Change (co-directed with acclaimed Inuk filmmaker Zacharias Kunuk) and Climate Change in Atlantic Canada. These projects represent research and cinema as one.
The Winnipeg screening will be preceded by a free public dialogue — focused on climate change and our common future. This dialogue is sponsored by The University of Winnipeg and will focus on Suzuki's and Mauro's efforts to engage Canadians regarding climate change.
Journalists are welcome to attend the film screenings and discussions (at no cost). Interviews are available on request.
Visit the Beyond Climate website for more information. Watch the trailer.
World premiere: screening of Beyond Climate
Friday, Oct. 26, 7:00 pm
Hot Docs, Ted Rogers Cinema, 506 Bloor St. West

• Planet In Focus Environmental Film Festival (Toronto)
• Suzuki and Mauro with Elder Cat Criger
Public dialogue: Climate change and our common future
Friday, Nov.2, 4:30 pm
Richardson College for the Environment, 599 Portage Ave.
• Free public event (Winnipeg)
• Suzuki and Mauro along with Dr. Annette Trimbee (President, The University of Winnipeg)
Winnipeg premiere: screening of Beyond Climate
Friday, Nov. 2, 7:00 pm
Eckhardt Gramatté Hall, 515 Portage Ave.
• Gimme Some Truth Documentary Film Festival
• Suzuki and Mauro with Elder Dave Courchene (Turtle Lodge) and Dr. Annette Trimbee
• Tickets available at door and online
BACKGROUND
Dr. Ian Mauro is the Principal of Richardson College for the Environment Winnipeg and Co-Director of the Prairie Climate Centre (PCC). He holds a BSc in environmental science, PhD in geography, and studied as a postdoctoral fellow in ethnoecology. He is a former Canada Research Chair, a Fellow of the Royal Society of Canada's College of New Scholars, Artists and Scientists, Apple Distinguished Educator, and has served on expert panels related to food security, energy issues, and climate change in Canada. He has developed numerous, award-winning, multi-media climate change projects across Canada, including Qapirangajuq: Inuit Knowledge and Climate Change (co-directed with acclaimed Inuk filmmaker Zacharias Kunuk), Climate Change in Atlantic Canada, and Beyond Climate. In collaboration with the PCC, Mauro helped develop and launch the Climate Atlas of Canada. Mauro's work has been featured in academic conferences, museums, film festivals, and news media such as the United Nations, Smithsonian Institution, National Geographic, Royal Ontario Museum, ImagineNative, Berlin International Film Festival, The Globe and Mail, Canadian Geographic and This American Life.
Dr. David Suzuki is an award-winning geneticist and broadcaster who co-founded the David Suzuki Foundation in 1990. In 1975, he helped launch and host the long-running CBC Radio show Quirks and Quarks. In 1979, he became familiar to audiences around the world as host of CBC TV's The Nature of Things, which still airs new episodes. From 1969 to 2001, Suzuki was a faculty member at the University of British Columbia, and is currently professor emeritus. He is widely recognized as a world leader in sustainable ecology and has received numerous awards for his work, including a UNESCO prize for science and a United Nations Environment Program medal. He is also a Companion of the Order of Canada. He has 29 honorary degrees from universities in Canada, the US, and Australia, including The University of Winnipeg (2015). For his support of Canada's Indigenous peoples, Suzuki has been honoured with eight names and formal adoption by two First Nations.